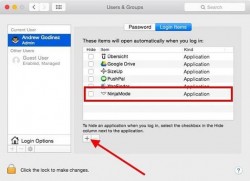 Whether you own a Windows PC or a Mac computer, both have system apps that launch during start up. Some of these apps can cause problems; all of them will cause extra load which adds to the total time it takes to get your computer ready to start browsing the internet. Typically, we want to reduce the amount of load time and to do that we want to adjust the system apps which launch. On the other hand, sometimes we have apps that don't start and yet we wish to use those apps as soon as the Mac launches. In those cases, it's best to incorporate them into the system start up so they automatically run when you turn on the Mac.
Here's how to configure apps to be launched ruing the Mac OS X start up:
HOW TO ALTER WHICH APPS LAUNCH DURING A SYSTEM START UP ON MAC
1. Open the 'System preferences'.
2. Click the 'Users and groups'.
3. Click the 'Login Items'.
4. You'll notice a small '+' symbol on the display here. Click the plus sign.
5. Find the apps you want.
6. Click the 'Add' button.
7. Reboot the computer and the changes will take effect.
That's all there is to it. If you have a great deal of adjustments to make, consider holding down the command (Cmd) key when clicking the mouse to select multiple items at once inside the folders.
Related Posts