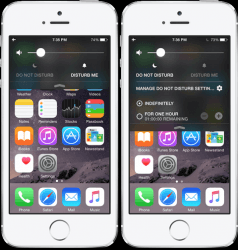 Android Lollipop has been available for almost a year now and we'll get the newer Android 'M' as an official release and not just as the Developer Preview like it is today. Lollipop is one of the largest changes we've seen made to the Android operating system since way back with 2.3 Gingerbread. As such, we are able to use many new features.
As some of you might already know, Android Lollipop comes with the material design UI, material design flowing through the app drawer, multiple device compatibility, the ability to pick up tasks where you left off, new battery settings for additional battery saving, improved security, updated notifications screen, new Quick Settings, Tap and Go NFC payments, a smoother and faster overall OS, camera updates and more. One of the features you probably know if you run Lollipop is the new Settings menu called "interruptions" that gives users a much greater control over who can interrupt them and when.
Apple iOS users can now mimic the Android Lollipop "interruptions" feature by jailbreaking their device running iOS 8 and checking out a new Cydia tweak. Once the tweak is installed you'll be able to use the feature.
HOW TO GET THE INTERRUPTIONS FEATURE FROM ANDROID LOLLIPOP ON YOUR APPLE DEVICE RUNNING IOS 8
1. Jailbreak your device using TaiG.
2. If you keep the Cydia box checked with a mark before jailbreaking, the Cydia app will automatically download to your device.
3. Head to the  ModMyi repository in Cydia.
4. Search for the 'Stunden' tweak and follow the prompts for installing it.
It's as easy as that. Tell us what you think about the tweak in the comments below.
Related Posts