Nowadays, you're free to choose from a wide range of archiving utility tools to extract or process your files as archives. There's WinRAR WinZip, 7zip, etc. Speaking of which, most of these tools work by letting you choose the archived file that you wish to extract or vice versa. For archived files, you must directly select the file first before you can extract its contents. You can't do it by simply right-clicking on its parent folder. Now, what if you have a lot of compressed or archived files that you wish to extract? Is it possible to extract them all in just one-click by simply putting them into one folder?
Well, if you're using any of the archiving tools above, you won't be able to do so. Thankfully, there's another archiving tool that does the trick and this post will teach you how it works.
How to extract all archived files inside a folder in Windows
First of all, download and save the "Unziplify" freeware for Windows from this link. It is compatible with Windows XP, 2000, 98, Me, NT, Vista, 7 and 8.
Once downloaded, double-click on the "Unziplify13.exe" application on your computer to install it. Just follow the on-screen instructions for software installation.
Once installed, you may configure or update Unziplify's default settings. Just open your "All Programs" list then select and click "Unziplify Options".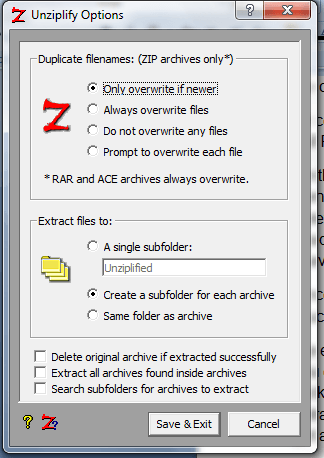 On the Unziplify window, check or uncheck the options that you prefer for "Duplicate filenames" and "Extracting Files". You may also select any of those extra options for deleting original archives (once successfully extracted), extracting all archives found inside archives and searching subfolders for archives to extract. Do not forget to click "Save & Exit" to confirm.
Once done, Unziplify will automatically update the file context menu. So that's pretty much it. You're all set to extract all archived files inside a folder.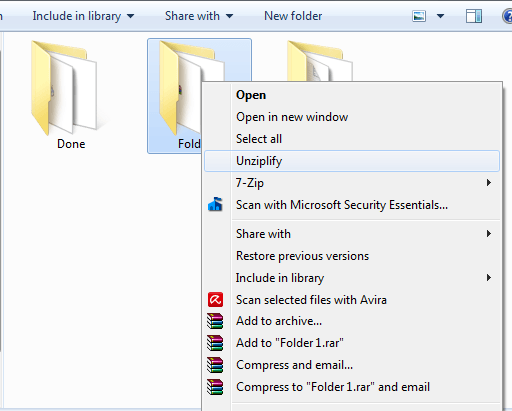 For example, if "Folder 1" has two or more archived files in ZIP, RAR or ACE formats, you can extract all of these archived files at once using Unziplify. To do so, just right-click on "Folder 1" and on the context menu, select "Unziplify". That's it. All of the extracted files will be saved in either in a single subfolder or multiple subfolders. You'll get a confirmation message once the file extraction process has been successfully done.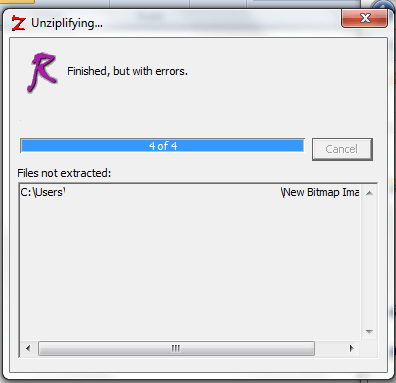 That's not all. The said tool can also extract multiple archived files from different folders. For example, if Folder 1 and Folder 2 both have archived files that you wish to extract in one-click, just select both folders and then right-click. Once again, choose "Unziplify" from the right-click menu. After which, just let the tool do its work.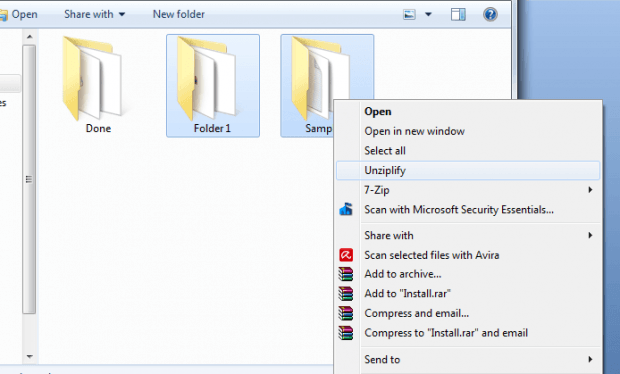 That's it. Unziplify really does work wonders especially if you have a lot of ZIP, RAR and ACE files that you wish to extract in just one-click!
Related Posts