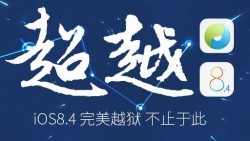 We've covered a few different jailbreaking tutorials now using TaiG on either iOS 8.3 or iOS 8.4 firmware. Now we are showing you how to jailbreak iOS 8.4 using TaiG 2.4. The TaiG team keep updating their tool to reduce the amount of bugs and give users a better experience. There doesn't appear to be any additional add-ons with business ventures or any Chinese app store changes to the tool. Since each public release of the TaiG tool gets better and better, we always recommend using the latest available — this time with version TaiG 2.4.
REQUIREMENTS
You must have restored your device from iTunes. Meaning, update the firmware connecting to iTunes. DO not jailbreak if you updated to iOS 8.4 over the air will a notification from Apple. It's the difference between having a great deal of problems and having next to no problems.
BEFORE WE BEGIN
Download iOS 8.4 IPSW if you need it. Upload the file in iTunes and restore the firmware that way.
Disable the Find My iPhone feature from the Settings.
Disable the passcode lock and the Touch ID if your device has the Touch ID.
Take a backup from iCloud or from iTunes. You can restore it later if you need it.
HOW TO JAILBREAK IOS 8.4 WITH TAIG VERSION 2.4
Download the latest TaiG 2.4 to the Windows PC. Those with Mac can learn how to use TaiG using Mac thanks to a Virtual Machine running Windows 10.
Extract the TaiG file by right-clicking over the file and selecting to extract it here.
Run the jailbreaking tool so it's open.
Connect the Apple device to the same computer that has TaiG waiting.
Keep the Cydia box ticked. You can disable the 3K assistant box — that's our recommendation, but you are welcome to keep it if you wish.
Follow the on-screen instructions to finish the job.
You might also be interested in learning how to fix the Apple driver hasn't been found error.
Related Posts