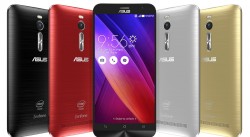 Unlocking the bootloader is a standard requirement for gaining root access to most Android devices. While a much different process than using rooting tools, unlocking the bootloader is still a nuisance in its own right and often requires a great deal of time and effort you could spend doing something else — like rooting for instance.
Not only do we have a way for Asus Zenfone 2 owners to unlock their bootloaders, but we have it with a One-Click method which is far easier than most other devices.
REQUIREMENTS
You can only use this file on the Zenfone 2. Do not attempt installing it on a different device. You can brick it.
You must have a Windows PC to use this guide.
BEFORE WE BEGIN 
Download the Asus USB Drivers on the Windows computer. Try rebooting the computer after installing the drivers if the guide isn't working for you.
Unlock the Developer Options menu by tapping over the build number on the About Device menu repeatedly until it's unlocked.
Enter the Developer Options that's now part of the Settings app and enable the USB Debugging Mode. You'll now be able to connect to the computer.
HOW TO UNLOCK THE ASUS ZENFONE 2 BOOTLOADER WITHOUT ROOT ACCESS
Download the bootloader tool you need from this link.
Extract the file to the desktop and you should see the unlock_one_click_v2.bat file inside. That's our tool we are using.
Install the ADB Drivers on the Windows computer.
Run the script file so the tools running on the computer.
Connect the Zenfone 2 to the computer.
If your drivers are working correctly, you should be able to follow the quick instructions on the display.
Your device's bootloader is unlocked once you witness the Splash Screen. You are free to unplug from the computer and begin thinking about rooting.
Related Posts