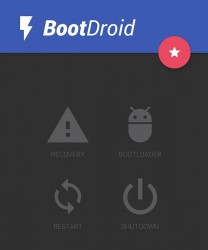 The perks of gaining root access are enough for most people to at least think about giving it a try. Where it often falls apart for many is not knowing what to do with the little things like having to boot up into the recovery mode. How is that done? Or having to boot up in bootloader mode. How is that done? Sometimes life seems too short to continue trying to find the answers if they aren't easily presented, or if they are too difficult to understand.
Now that we are about half way through 2015 we have a new method with which people can easily boot their rooted Android devices into the desired recovery and bootloader modes with the help from an app. Installing apps is often the way to go if you aren't an advanced Android user because they offer the simplest solutions.
REQUIREMENTS
HOW TO BOOT ANDROID TO BOOTLOADER AND RECOVERY MODE (ROOT REQUIRED)
Turn on your smartphone or tablet.
Tap the Google play app and log in with your details.
Install the Boot Droid app from here.
Wait until the app finishes downloading before opening it up from the app drawer.
Open the app to find the simplest solutions. The app will guide you where to go. There's even an option that let's you check for root, so you can't go wrong.
Related Posts