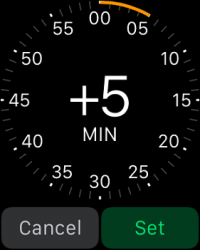 With all the talk of features coming with the Apple Watch it's important not to forget what it's main feature will always be: telling us the time. Many of us will carry over the same habits from our old watches over to our new smartwatches, provided we can work out how to do it. There's no reason why you can't keep up old habits if you were one of the many people who liked to set their watches a few minutes fast to help prevent being late. Here's how that's done:
HOW TO SET THE APPLE WATCH FIVE MINUTES FAST
Open the Settings application on the Apple Watch.
Tap on 'Time'.
Tap over the grey button.
Turn the digital crown. We used five minutes in the example because it's a common time to set. However, you can manually adjust it from 1 minutes to 59 minutes.
Tap the 'Set' option and the time you entered will save.
The time on the watch face will now be set to the time you chose.
It's important to note that only the watch face clock changes. Changing the clock face doesn't alter any notifications, alarms or any other changes to do with time like the world clock.
There you go! Now you'll never be late again — maybe.
Related Posts