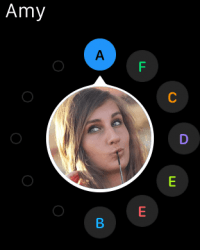 While many older folk would argue that modern-day technology does a great job of taking friends away from us, most younger folk would argue these tech giants do a pretty good job at keeping us connected. One of those features which aids the connected generation even more is the ability to add favorite contacts as friends on the Apple Watch. Here's what I'm talking about:
REQUIREMENTS
The Apple Watch.
The iPhone that works with the Apple Watch, plus the dedicated Apple Watch app on the iPhone.
HOW TO ADD YOUR FAVORITE CONTACTS AS FRIENDS ON THE APPLE WATCH
Turn on the iPhone and open the Apple Watch app.
Tap the 'My Watch' option.
Scroll down and tap on the 'Friends' option.
Select up to 12 favorites to be includes as friends.
Tap your finger over the 'Add Friend' text and wait for the next screen to load where you can select your choice out of your friends.
Repeat the process until all spots are filled. Only 12 can fit on a page at the moment. It's possible Apple update this in the future to include the ability to add more friends.
Look at the three options at the top of the display, including My Watch, Friends and Edit.
Click the Edit button to remove any friends you added earlier, which you now want removed.
Related Posts