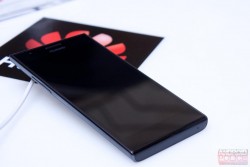 If you are wanting to gain root access and tinker with the operating system on the Ascend P2, you'll probably want to flash a custom recovery image to get the full experience. There isn't any TWRP recovery available that I can find, however, I have found a non-touch version of ClockworkMod recovery 6 you can install thanks to the P2ToolsAPK.
REQUIREMENTS
You may only use this guide for the P2 variant of the Huawei Ascend. It doesn't work for any other.
BEFORE WE BEGIN 
Download the Huawei USB Drivers to the Windows computer.
Restart the computer to make sure those drivers are now working.
You are voiding the warranty by installing a custom recovery image of any description. It's no different with the P2.
HOW TO INSTALL CLOCKWORKMOD RECOVERY ON THE HUAWEI ASCEND P2
1. Connect the Ascend P2 to the same Windows PC where you downloaded the drivers.
2. Download the P2ToolsAPK file from here. (The link is at the bottom of the page in the attached files).
3. Open the app from the app drawer and press Vol – or Vol + when the red LED comes on during the booting process.
4. You should find the CWM is now installed on the system partition and is booted.
Now that you have the custom recovery installation out of the way, you are ready to install one of the Huawei Ascend P2 custom ROMs available.
Related Posts