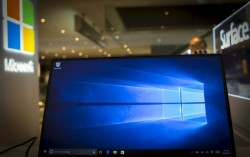 Microsoft set out to create an easier upgrading experience with Windows 10 when compared with earlier versions of Windows OS. Those who just wanted to upgrade over the Windows 7 or Windows 8.1 generally managed to do so without too many concerns. The people who did find faults had 30 days to find specific solutions or choose to downgrade the OS back to where they came from.
Downgrading should always be the last trick to try and not the first. However, some errors do not allow for any fixes apart from reinstalling so it's important to understand when you must cut your losses. The guide below will teach you how to reinstall Windows after deleting some of the problematic files.
REQUIREMENTS
Make sure you check the box for hidden items when browsing files and folders.
You might be interested in download WizTree to help identify the file and folder paths in Windows. It's usually a free program that's used to help clean up disk space and you can keep it on your computer for doing that too. In this instance, you can install it to help with your navigation of the Windows OS.
HOW TO FIX THE 80240020 ERROR AFTER THE FREE WINDOWS 10 UPGRADE
1. Turn on the computer and head over to the C:\$Windows.~BT folder.
2. Delete as many files from the ~BT folder as possible. Some of them will not let you because of insufficient permissions. Continue deleting all the files that do allow you to delete them.
3. Go back to the C: Drive and head to this path: C:\Windows\SoftwareDistribution\Download.
4. Follow the guide here for How to force download Windows 10 and skip Update waiting process [Guide].
5. Now follow the How to download and install Windows 10 Free on PC [Guide].
You should have no problems updating to Windows 10 after completing the steps above. If you do encounter the same error, follow the steps and try again. It's widely believed the error is on Microsoft's end due to heavy traffic and of no fault of your own.
Related Posts