Idea Town is a new platform launched by Mozilla that allows its developers to release and test new features on the stable version of Firefox. This will help them gain user feedback and eventually improve the feature before it gets officially rolled out.
Speaking of which, the first feature that has been released by Idea Town is meant to help you manage your tabs. It's called "SnoozeTabs". So instead of bookmarking your tabs or keeping them open on your browser, you can just "snooze" them out. When snoozed, your selected tabs will be automatically hidden and they won't appear until later.
How to snooze, hide and manage all inactive Firefox tabs
Open Firefox and then click here to go to the add-on page for "SnoozeTabs".
Once you're on the "SnoozeTabs" page, click the "Install the add-on" button and then when prompted by a dialog, click "Allow".
When asked to confirm the installation, click "Install Now".
Once the add-on has been successfully installed, it will automatically add a new icon to your browser's toolbar.
Now, go ahead and select the tab that you wish to snooze and then click the snooze icon on your Firefox toolbar.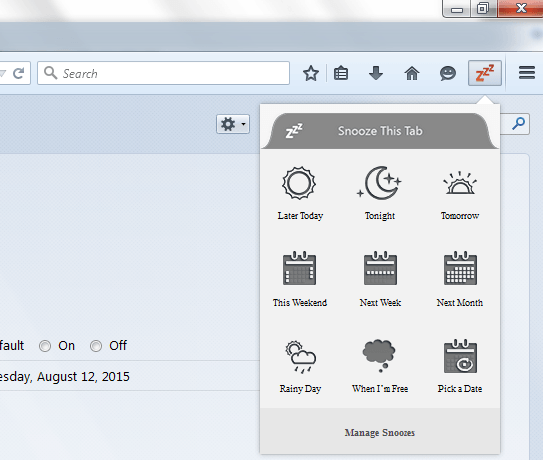 On the snooze menu, you will see the following options:

Later Today
Tonight
Tomorrow
This Weekend
Next Week
Next Month
Rainy Day
When I'm Free
Pick a Date

Just select one out of the available options and that's it. The snoozed tab will be automatically hidden from your browser. It will only reappear on your preferred time or date.
To manage your snoozed tabs, just click the snooze icon again and then select "Manage Snoozes". On the Library window, look for the Snoozed Tabs folder. You may then open or delete any of your snoozed tabs.
Anyways, do note that the SnoozeTabs add-on still needs a lot of improvement. Therefore, some of its options may not work as expected.
Related Posts