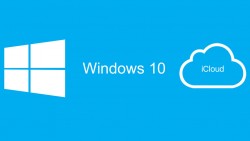 There are some features with modern-day operating systems that flirt between efficiency and danger. Syncing iCloud photos in Windows 10 is one of them. While this guide can make life extremely efficient for some, it can also take people's private lives into the lap of unintended family members, so tread carefully.
Those with their own personal computers, or with computers they don't mind sharing, will be interested in learning how to sync photos from iPhone to Windows 10 and even how to sync from iCloud on Windows 10 back to the iPhone. The result will mean you no longer have to manually transfer the photos from the iPhone to the computer. Here's what you need to do:
HOW TO SYNC ICLOUD PHOTOS IN WINDOWS 10
1. Download the iCloud version you need from this link.
2. Launch the iCloud photos from the PC.
3. You should see it says "iCloud Photos is not enabled" on the right side of the display. Click the blue "Open iCloud" text directly beneath it.
4. You'll see three options from the next screen. Check the "Photos" box and leave the other two unchecked.
5. Click the "Options" box positioned to the right side of the checkbox.
6. Choose between syncing the My Photo Stream or iCloud Photo Sharing. read the descriptions carefully before making your choice so you know you are choosing the right one for you.
7. Click the "Change" button if you wish to alter the default photos location on the Windows 10 PC.
8. Click the "OK" button when you are finished making your choices.
9. Click the "Apply" button and close the window.
10. Now you have set it up, a new photo you've taken on the iOS device will automatically sync with the Windows 10 PC.
11. Conversely, you can make photos appear from the Windows 10 cloud appear on the iOS device instead. Here's how:
12. Head over to the albums in iCloud photos.
13. Open the "My Photo Stream" folder.
14. Click the "Add Photos" button.
15. If you prefer adding photos to shared albums, open the shared album option available from iCloud Photos and click the "Add Photos" button .
That's it. Now you know how to enable and sync photos with iCloud on Windows 10.
Related Posts