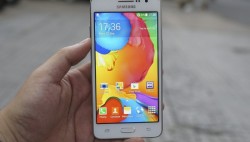 Most rooting guides require installing a custom recovery before gaining the rooting privileges. That's exactly what we are doing here today, yet again with the Galaxy Grand Prime. Follow the guide after the drop to learn how to install TWRP recovery on the Samsung Galaxy Grand Prime SM-G530H.
REQUIREMENTS
The guide is made for the SM-G530H variant of the Galaxy Grand Prime smartphone only. Do not install these files on any other 'Prime' variant in the Samsung range. You'll likely brick it if you do.
BEFORE WE BEGIN
Download the Samsung USB Drivers for mobile phones by scrolling down our page until you get to the Samsung name.
You are voiding the warranty by installing a custom recovery, just like you would be with rooting.
Go to the Settings > Developer Options > check the box for USB Debugging so you can connect to the computer.
HOW TO INSTALL TWRP RECOVERY ON THE SAMSUNG GALAXY GRAND PRIME SM-G530H
Download the Odin flashing tool from here.
Download the TWRP recovery from here.
Unzip the custom recovery and the Odin tool so you can use them both.
Run the Odin tool so it's open and ready for you.
Start by turning the Grand Prime completely off by holding the Power button for ten seconds.
Reboot the Grand Prime to download mode.
Connect the smartphone to the computer where you have Odin already open and waiting.
Since Odin was already open, it will now detect your device. You'll see that by noticing the ID: COM port change color.
Click the AP button and browse the desktop/computer for the TWRP recovery file. You have to have unzipped the file before you can upload it to Odin.
Click the Start button without changing any of Odin's default settings.
Odin will give you the 'pass' message when it's all done in a few minutes.
Awesome! You can install custom ROMs. Now you are ready to learn how to root the Samsung Galaxy Grand Prime so you can think about installing the root-only apps from Google Play.
Related Posts