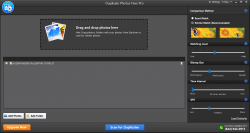 Nowadays, people love taking selfies. They also love posting all sorts of photos online. As a matter of fact, photography has become an integral part of modern life. Thus, along with the increasing number of photos on your hard drive, there also goes the dilemma of sorting them out regularly and getting rid of duplicates. After all, doing it manually just won't do. It's time-consuming and too bothersome. So why fret when there's an easier and more convenient solution like using Systweak Software's "Duplicate Photos Fixer"?
What Is It and What Does It Do
Main Functionality
If you're on Windows, you can use a premium duplicate photos remover tool called "Systweak Duplicate Photos Fixer". What this tool does is that it automatically scans and gets rid of all duplicates or similar photos on your computer. It gives you the convenience of sorting and keeping your photo collection duplicate-free while at the same time, recovering some of that wasted disk space on your PC. Aside from this, the said tool is also compatible with other platforms including Android, iOS and Mac.
Pros
Modern, sleek, responsive, resizable and user-friendly UI
Easy to use – just add, scan, select and delete duplicates
Completely automated – hassle-free and does not take a long time to scan, find and delete duplicates
Utilizes an advanced comparison method for finding exact matches and similar matches with adjustable matching levels
Fast and reliable – can be used to scan individual photos or folders
Can be used to automatically scan and remove photo duplicates from your external hard disk, CD or flash drive
Supports batch processing for duplicate scanning and removal
Offers custom user settings
Supports a wide range of image formats or file types including .jpg, .png, .jpe, .gif, .eps, .mpo, .exr, .tiff, .sgi, .bmp, .ico, etc.
Helps recover wasted disk space – so you can use that space for other important files
Helps keep you photo collection and file folders clutter-free
Can be used to detect slightly photoshopped photos or similar photos with different contrasts, color or brightness level
Deleted duplicates will be automatically moved to Recycle Bin unless they're from your flash drive or network drive
Also available on other platforms including Mac, iOS and Android
Cons
Free-trial version can only fix or delete up to 15 duplicates so you need to upgrade to Pro
Can only compare and scan duplicates for photos clicked within 24 hours
There's no setting where you can permanently delete a duplicate photo without moving it first to the Recycle Bin
Discussion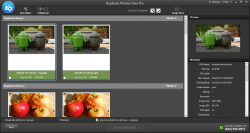 The way how Systweak Software's Duplicate Photos Fixer works is simple. It automates the task of scanning and deleting duplicate photos. It also supports batch scanning and deletion so it really helps save time with very little effort done. It also supports a wide range of photo or image formats so it doesn't matter whether you have JPG, PNG, TIFF, BMP files or even GIFs. It's suitable for both personal and professional use but you do need to keep in mind that it's free-trial version can only remove up to 15 duplicates.
With Duplicate Photos Fixer, you can select the photos that you want to scan manually or automatically add their folders. This tool supports drag and drop so it's very convenient to use especially if you're working on multiple photos or images.
So after adding the photos, just select your preferred detection method, exact match or similar match, and then click the "Scan for Duplicates" button. Depending on the number of photos that you're scanning, it can take a while but it usually won't take too long. After the duplicate results are shown, you can select which photo to delete and which one to keep and then confirm. It's really that simple.
After which, all deleted duplicates will be automatically moved to the Recycle Bin so you still have the chance to recover them if ever you change your mind. The downside though is that there's no option for you to permanently delete duplicates without moving them first to Recycle Bin.
Also, it's important to note that Systweak Duplicate Photos Fixer can detect similar photos based on the following parameters:
Photos shot in quick succession (Burst Mode)
Slightly photoshopped photos
Photos having a different contrast, color or brightness level
Identical photos clicked within the last 24 hours
Identical photos clicked within a distance of 100 meters
Apparently, there are limits to what it can detect or identify as duplicate but it is good enough for personal, professional and even for business use.
Conclusion and Download Link
The free-trial version of Systweak Duplicate Photos Fixer is obviously just meant to tease you of its Pro features. So if you really intend on using this tool for scanning and detecting duplicate photos on your computer, better consider on getting its Pro version. With its wide range of supported image formats, user-friendly interface and advanced duplicate photo scanning options, it is definitely worth checking out.
Price: $29.95
Version reviewed: 1.1.1000.2208
Supported OS: Windows 10/8.1/8/7/Vista/XP (Both 64 & 32 bit) / Also available on Mac, iOS and Android
Download size: 2.78MB
VirusTotal malware scan results: 7/56
Is it portable? No
Systweak Duplicate Photos Fixer homepage
Related Posts