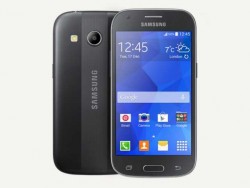 The Samsung Galaxy Ace 4's are simply 'ace'. It's a neat budget smartphone that is perfect for rooting. That's why we are going to show you how to root Samsung Galaxy Ace 4 after the jump. Once you have unchained the Galaxy Ace's internal system, you can install heaps more apps from the Google Play Store. Some of those apps aren't just for playing games either; they can be incredibly useful for creating better device performance and more.
Here is everything you need to know to root Samsung Galaxy Ace 4.
REQUIREMENTS
The guide is only made for the Samsung Galaxy Ace 4. Do not try this guide on the Ace 3 or any other devices. It won't work and you can brick down your device. Should you get stuck in a soft-brick, head to Sam Mobile and download the right official firmware build for your model number and flash that with Odin.
BEFORE WE BEGIN
Download the Samsung USB Drivers for mobile phones.
You must use a Windows PC to follow this guide. You cannot use this guide if you are working from a Mac or a computer running Linux.
You are voiding any warranty that you might have remaining by completing the guide. If your device has Knox security, you can expect it tripped.
Check that the USB Debugging Mode is already enabled from the Developer Options menu. You can find it from the Apps > Settings App > Developer Options. If you do not see any Developer Options there, it's probably because the hidden menu needs unlocking.
Go to the Settings > About Device and tap over the build number seven times. Now when you go back to the Settings you should see the Developer Options menu there.
HOW TO ROOT THE SAMSUNG GALAXY ACE 4
Download the rooting package you need from here.
Download the Odin flashing tool from here.
Extract the flashing tool and the rooting package to the desktop of the Windows PC.
Shut down the Samsung Galaxy Ace 4 by holding the power button down for ten seconds.
Connect the Samsung Galaxy Ace to the computer using the USB cable.
Click the AP button in Odin and upload the rooting file.
Make sure the re-partition box is left empty.
Check the Auto Reboot and F Reset Time options are currently on.
Click the Start button in Odin and it will root your device.
Wait until you see the pass message on the display.
Those who do not get any pass message will need to install the Samsung USB drivers and try again. If it still doesn't work, try rebooting the computer and that should get the drivers working.
Now that root access on the Samsung Galaxy Ace 4, you should have no worries downloading apps such as BusyBox and other root-only apps available from the Google Play Store. Cheers!
Related Posts