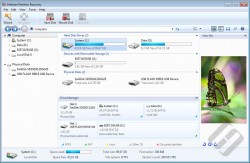 Losing your important data because of a corrupted hard drive can be really troublesome. What makes it worse is if you forget to create a backup. You're left without a choice; secretly hoping for a miracle to happen. Well, lucky for you because there's still a way to prevent you from becoming hysterical. If you have Hetman Software's Partition Recovery, then you can easily restore deleted files, recover files from corrupted, formatted, repartitioned and inaccessible storage media in an easy step-by-step mode.
What Is It and What Does It Do
Main Functionality
Hetman Partition Recovery is a comprehensive recovery software for Windows. What it does is that it undelete deleted files, unformat partitions and recover corrupted hard drives. What makes it notable is the fact that it can be easily used by anyone as it lets you go through a step-by-step guide plus it supports a wide range of storage media. This includes internal and removable hard disks, USB flash drives, SD cards, microSD cards, CompactFlash, Memory Sticks, etc. That's not all. This tool also supports all 32-bit and 64-bit versions of Windows.
Pros
User-friendly interface with a layout that is very much akin to Windows Explorer
Features an easy step-by-step method for data recovery
Fast, stable and responsive
Supports a wide range of storage media as well as file formats
Can undelete files or recover files that were wiped out from Recycle Bin or via "Shift + Delete"
Recovers data from repartitioned disks, formatted disks and deleted disk volumes
Recovers data from corrupted, inaccessible and damaged disks
Features a comprehensive set of tools and options that can rebuild damaged volumes and partitions as well as fix corrupted file systems
Can restore hard disks back to full operation
Features two scanning options – Fast Scan and Full Analysis
Users can easily recognize deleted files as they are displayed with an "X" mark
You can select which deleted file or data to recover
Offers a wide range of selections for saving recovered files – you can save files to a new hard disk, USB drive, burn it to CD or DVD, create an ISO virtual image or upload it via FTP
Creates virtual disk images for safe and secure recovery
Can easily search for deleted files by name, date, size, type, etc.
Can view files and disk content in HEX mode
You can preview files right within the software window
Recognizes all versions and revisions of FAT and NTFS file systems
Has a portable version
Cons
Discussion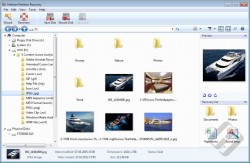 Hetman Partition Recovery is a very handy and useful tool not just for business people and professionals, but also for anyone who do not wish to lose their important files. As we all know, hard disks and other storage media always pose the risks of being damaged or corrupted. There's also the case of reformatting disks or resizing partitions.
Plus, the way it works is very straightforward. After installing Hetman Partition Recovery on your Windows system, you run it and select the storage media (ex. Drive C:\, Drive D:\, etc.) that you wish to scan. After doing so, you can select whether to do a Fast Scan or a Full Analysis scan. For a Full Analysis scan, the software will find all relevant information on a drive and then restore all relevant files. The average scanning time usually depends on how much files you have stored on your hard disk or drive. With this software, you can also scan removable drives as well as flash drives and SD cards.
So after the scanning process, the software will show you all of the scanned files including the deleted ones. The deleted ones will be marked with "X" so it's easy for you to select the ones that you wish to recover. To recover these files, simply select "Recover" on the tools menu and then choose whether to save your recovered files in a new disk, flash drive, CD or DVD, etc. This tool offers a wide range of options for saving files so you have the freedom to do what you want. It offers a single, all-in-one solution for taking care of your data and disk recovery needs.
That's not all. It also features a wide range of tools that can rebuild damaged volumes and partitions as well as repair corrupted file systems. So if you have some damaged and inaccessible disk drives, this tool can do wonders.
All in all, Hetman Partition Recovery has proven its usefulness. You'll definitely need it at some point, maybe not now but it pays to be ready when that time comes. After all, losing your important data and having to buy a new hard drive is no laughing matter. So spending less than a hundred dollars for a very useful tool like this can definitely help you save time, money and effort. It's highly recommended especially for professionals and business folks.
Conclusion and Download Link
Hetman Partition Recovery is a much-needed data recovery and utility tool that caters to a wide range of users. For a price of $97.95, it's definitely worth it compared to losing all of your important data just because you've given up on fixing your corrupted, damaged or inaccessible disk drive. So instead of letting yourself experience that troublesome situation, be prepared so that even if such things happen, you know that there's still a way to undelete or recover your lost data as well as fix your corrupted drives.
Price: $97.95
Version reviewed: 2.3
Supported OS: Windows XP, Vista, 7, 8, 8.1, 10 (64-bit and 32-bit)
Download size: 14.3MB
VirusTotal malware scan results: 0/56
Is it portable? Has a portable version
Hetman Partition Recovery homepage
Related Posts