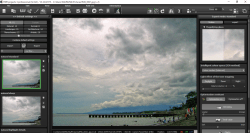 Nowadays, you can take HDR photos using smartphone apps. Some smartphones even integrated this feature into their native camera apps. Now, if you're totally clueless as to what it is all about, HDR stands for "High Dynamic Range" and it's a type of photography technique that's supposed to make your photos look even better – well, not all the time. It usually depends on how you use it but it's definitely great when you're taking photos of nature as well as for enhancing photos taken against sunlight. Speaking of which, HDR Projects 3 Professional, takes HDR photography to an entirely different level. It lets you process and convert normal images into HDR like a pro!
What Is It and What Does It Do
Main Functionality
HDR Projects 3 Professional is a premium HDR application for Mac and Windows. It is a more enhanced version of previous HDR Projects releases and features a new capability called Smart Colorspace Adaptation (SCA). With SCA, the primary colors in your photos are enhanced making the image look more vivid and natural. Other than that, this tool also features a superb "deghosting" capability which effectively gets rid of blurry or translucent images. This is great when you're editing HDR photos with people included.
Pros
Modern, stable and responsive UI
Supports many types of image or photo formats – .png, .jpg, .tiff, .bmp, .psd, .ppm, .raw, etc.
Features 13 different and unique HDR algorithms
Features elective exposure as well as HDR weighting via HDR Painter
Highly precise alignments resulting in crisp exposure series results
Superb ghost image remover – fully automatic but also manually usable
Features a professional RAW converter (supports all RAW formats)
Features 81 "high-quality" presets – saves a lot of time and lets you create all sorts of professional HDR photos
10 tone mapping calculation algorithms
72 high-end filters for artistic and print-friendly images
Area corrector for sensor spots
Supports batch processing and add-ons
You can easily compare original image and HDR image in "Preview Mode"
Fast image processing
Saves a lot of time and effort
Ideal for HDR photography enthusiasts and professional photographers
Cons
Lacks a new user welcome guide so if you're a photography newbie, it may take a while before you can fully utilize this software's functionality. It's more suited for users who already have advanced knowledge in HDR photography.
Discussion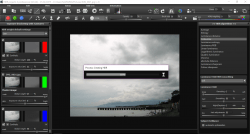 HDR Projects 3 Professional is a premium software so you need to purchase it for $261.25. It does have a trial version which you can use for 30 days but after the trial expires, you're required to purchase the paid version.
For the setup, you get to download the HDR Projects 3 Professional application first and then double-click on it to unpack the actual application installer (starter) as well as the Photoshop plug-ins. Once you're done with that, go to where your HDR Projects 3 Professional folder is located (ex. C:\Program Files\Franzis) and then double-click the "Starter" application to begin the actual installation. The default language is set in German so you just have to use your common sense and click the first button on the splash screen that says "installieren".
From there, you can finally set the language to "English" so just follow the on-screen guide. Once the installation is finished, just launch HDR Projects 3 Professional and you can begin creating some awesome HDR images.
With this software, there are heaps of high-grade options and presets. The thing is it lacks a new user guide so it will definitely take time for you to learn what each feature and option is all about. If you already have advanced photography knowledge and skills, then it would be much easier for you to get familiar with the way how this software works.
Nonetheless, you can already begin creating HDR photos just by relying on the presets. That's what I like about this tool because I'm no photography expert but I can still manage to figure things out and eventually create some stunning HDR images. I may not be able to fully utilize its functions but hey, I managed to create and edit my normal and dull-looking photos in such a way that they almost look like they were edited by a pro.
Another thing that I like is that you can save your photos as projects so it's easier to apply changes to your current image without starting all over again. You can also save HDR photos in different formats without losing its overall quality and vividness.
There's also the "Preview Mode" in which you can easily compare the original version of your photo against the HDR version (simply right-click on your photo to do so).
All in all, HDR Projects 3 Professional indeed offers a premium solution to anyone who is looking for a high-quality software for HDR photo editing, processing and creation. It's highly recommended for anyone who wants to delve deeper into the marvelous world of HDR photography. So whether you're a full-time or part-time photographer, this software should definitely be included in your "Must Have" list.
Conclusion and Download Link
HDR Projects 3 Professional by Franzis definitely has the edge over other premium HDR photography tools for Windows and Mac. Its reasonably priced plus it's loaded with features and adjustable presets that you can't easily find on other HDR software and applications. While it's more suited for professionals, it still manages to cater to newbies who are quite interested in creating high-quality HDR photos. I do suggest that you check out its free trial version first, test it out and then decide for yourself as to whether it's truly worth buying or not.
Price: Free Trial/Paid – $261.25
Version reviewed: 3.34.02375
Supported OS: Windows 10, 8.1, 8, 7, Vista, Mac OS X (10.7 and higher)
Download size: 72.1MB
VirusTotal malware scan results: 0/56
Is it portable? No
HDR Projects 3 Professional homepage
Related Posts