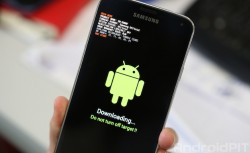 Download Mode on the Samsung Galaxy S5 smartphone has something in common with recovery mode and that's it's a unique mode that you can boot your device in to do tasks you couldn't usually do from the normal mode. These two modes — recovery mode and download mode — require a button combination to 'unlock' or use the mode so people don't accidentally boot their devices in these modes. It's critically important that people do not get in recovery mode by accident because if they do it could mean all data is wiped with just one click of a button. With download mode things are not as consequential, but they could be. If you connect the device to a computer and try applying a firmware update or rooting the device, it won't work unless it's in download mode. However, if the device is in download mode then anyone could flash your device with a new software version and wipe your older version.
BEFORE WE BEGIN
You likely are attempting to enter the download mode on Samsung Galaxy S5 so you can connect the device to the computer. Since that is the case, you'll need to enable the USB Debugging Mode for that. Do that now by heading to the Menu > Settings > Developer Options > USB Debugging unless you know it's already on.
Sometimes, depending on your device, the Developer options can be a hidden menu. If you are not seeing the Developer Options menu there from the Settings, try unlocking it so it's not hidden. Do that by heading to the Menu > Settings > About Device and tapping where it says the build number. After seven or eight taps you will get a message on the display telling you that you are now a developer. You can head back to the settings menu and find the Developer Options available.
It's best practice to back up the device before starting since most of the common tasks to do with download mode working do require a backup. For example, if you are applying a software update that wipes your data, you'll want to back up before putting the device in the download mode or else you won't have any time to get that done.
HOW TO ENTER DOWNLOAD MODE ON SAMSUNG GALAXY S5 SMARTPHONES
Make sure the Samsung Galaxy S5 smartphone is totally off before starting.
Once you know it's definitely off and not just sleeping, reboot it by holding the Power + Home + Volume Down buttons.
Do not let go of the three said button until the Samsung galaxy S5 screen changes. Soon you will see a warning triangle at the bottom of the display and some text above that triangle.
The text should say to press the Volume Up button now. Press the Volume Up by itself and the device will now boot into the download mode.
Now that your Galaxy S5 is in download mode, connect it to the computer.
Now that you have the Samsung Galaxy S5 in download mode, you can start following the guide you were using before being directed to this page.
Related Posts