Having trouble keeping track of the zillion things going on in your life, but can't seem to find an easy-to-use, down-to-earth task management tool to help you out? Wunderlist may be what you are looking for.
Wunderlist is an easy-to-use task management tool by 6wunderkinder, a small start-up based out of Berlin, Germany: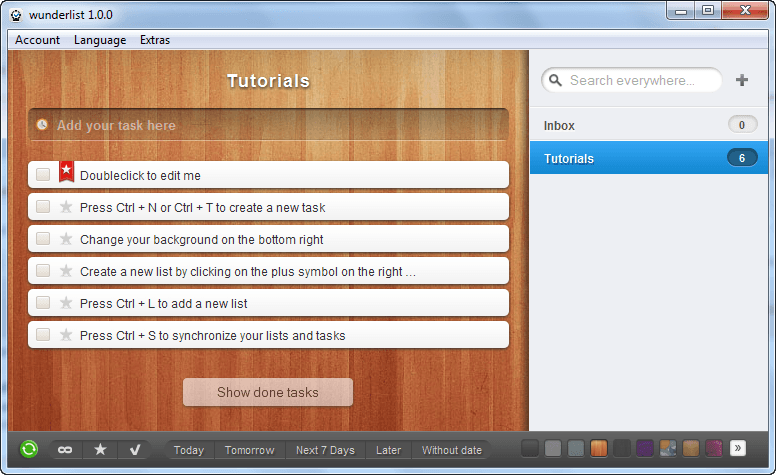 Wunderlist is extremely easy-to-use because it is very simple – there aren't too many features for users to have to deal with. You can add tasks, delete tasks, edit tasks, star tasks, and mark tasks as complete; each task is comprised of the task description and a due date. (NOTE: Due date is displayed next to tasks in DD/MM/YYYY format.) There are categories where you can file each task under, and you can filter tasks by their star-status (i.e. starred or not), their completion status (i.e. complete or not), and their due date (i.e. overdue, due today, tomorrow, in the next seven days, at a later date, or have no due date). Each task can be drag + dropped within a category (i.e. reordered) or drag + dropped into a different category and there is a search feature available for people that want to find specific tasks.
For some the lack of features may be a deal breaker; after all what kind of competent task management tool does not have built-in alarms/reminders and does not allow users to set a due time? For others, however, the simplicity is a welcome feature and the aesthetics of the program (beautiful interface) just make it that much better. Plus there is another reason Wunderlist may win over many users: The ability to sync tasks.
Wunderlist is a cross-platform application; it works on Windows, Mac OS X, and has an iOS app. Through Wunderlist's synchronization feature (you need to register an account, which is free) users can sync tasks between all their computers (Windows or Mac) and with their iPhone/iPod Touch/iPad. Unfortunately Wunderlist does not have an Android, Windows Phone 7, or BlackBerry app – nor does the developer show any signs of adding them in the future – but for those that do use multiple computers and/or have an iDevice, the ability to sync can be extremely useful.
That said, forget everything I just mentioned about Wunderlist; just think about the interface. The interface is extremely well designed, with good aesthetics and seamless transitions; and there are nine different backgrounds for the main program section (the area that lists the tasks) you can pick from if you don't like the default one. Clearly 6wunderkinder have some very talented artists and UI experts on their team.
Now, Wunderlist is not a perfect program. It is only v1.0.0 so it doesn't work perfect yet. For example, during my short time of using it, Wunderlist would often crash on launch. Indeed it seems like 50% of the time it would crash on launch while the other 50% of the time it would launch without any problems. In addition to the potential bugs, there are three basic features that I feel the developer overlooked. I understand that Wunderlist is using a "minimalist" approach when it comes to feature, so I am not going to criticize the program for not having many expected features such as an alarm; but I feel the following three features should be added to the program:
A trashcan where one can recover deleted tasks
The ability to order tasks in ascending or descending order within a category based on due date
The ability to pick exactly where to drop in a task (in the list of existing tasks) when drag + dropping tasks from one category to another (currently you can drag + drop tasks from one category to another but cannot select exactly the order the task is placed in the new category)
Lastly, there are also two privacy related points I would like to caution everyone about:
While you are not required to synchronize your tasks lists (simply don't register or login to an account if you don't want to sync), I noticed every time I create a new task with Wunderlist it makes an outbound call to Wunderlist's server: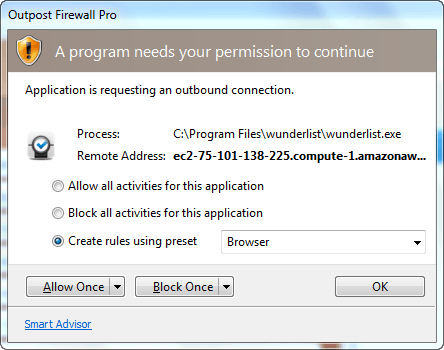 Now I understand this behavior when one is synchronizing tasks lists, but this happens even when I am not syncing the tasks list – even when I have not logged into an account or registered an account with 6wunderkinder.
6wunderkinder does not have an explicitly stated privacy policy; I could not find one on their website or one listed in their program. In other words, no one really knows for sure what data they collect or what they do with that data.

Update: Just to clarify, 6wunderkinder does state that all data synchronization is done over SSL (encryption) and the e-mail address and password is never shared with a third party. However, there is no further information, such as what data does Wunderlist collect and what is done with that data (i.e. task data).
You can grab Wunderlist from the following links:
Version reviewed: v1.0.0

Supported OS: Windows XP SP2 and higher, Mac OS X 10.5 and higher, iOS 3.1 and higher

Download size: 7.7 or 23.5 MB for Windows depending on which version you get

[Direct download – Windows version]

[Direct download – Windows version, no Internet connection required during installation]
Related Posts