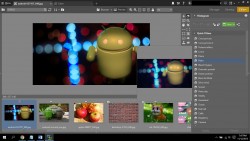 Nowadays, there are apps like Instagram and Pixlr that allows users to instantly edit and enhance photos. Still, nothing beats the likes of Photoshop when it comes to advanced image editing but what if you want something in between? Something like a photo software that can edit quickly edit and apply filters to photos but at the same time, can manage, enhance, retouch and crop your photos like a pro! Well, in that case, there's Zoner Photo Studio 18 PRO. In this review, we will find out if it is truly the only photo software you'll ever need.
What Is It and What Does It Do
Main Functionality
Zoner Photo Studio 18 PRO is a premium (paid) all-in-one digital photo processing software for Windows. What it does is that it lets you manage, organize, enhance, edit and share your photos through its wide range of tools, features and options. It also features quick filters and lets you crop, retouch and remove distractions from your photos in any way that you want. That's not all. It also lets you create panoramic, 3D and even HDR images out of your photos or stock images. It's a very cool tool especially for the shutterbugs.
Pros
Nicely designed user interface – neat, responsive, easy to use
Supports multi-tabbed editing/batch editing
Supports a wide range of photo formats including vectors, videos and bitmaps
Helps you manage and organize your photos with ease – ex. cut, copy, move to, rename, show image properties and image information, show system menu, delete, open with, etc.
Features different preview and viewing options – ex. zoom, zoom lock, 1:1, fit to frame, full screen, etc.
Supports presets – you can save your custom image enhancement settings, etc.
Features a wide selection of photo filters – these high quality filters include Lomo, Retro, Sunset, Black & White, Polaroid, Cinema, Solarize, Puzzle, Film and many more! You can also preview them before using.
Lets you create panoramic images out of your raw photos as well as 3D images, HDR images, postcards and even PDF slideshows
You can export or save edited images as JPEG, PNG or TIFF
You can crop, rotate or resize images in any way that you want
Features a wide selection of photo editing and enhancement tools
Has a built-in support for removable storage devices and lets you import while you work
Also functions as a video editor – great for creating image slideshows – cannot be used to edit raw videos
Automatically keeps a backup of the original image while you're editing in "Quick Fix" mode – can be turned off in Settings if you want
Can also be used to paste and edit screenshots – just switch to "New Blank Editor Tab"
Cons
None that I can think of but I do wish for it to have built-in background music presets for creating video slideshows
Discussion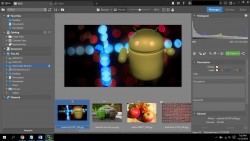 Before I proceed and discuss what I like and dislike (mostly like) about this photo software, let me tell you this first. Zoner Photo Studio 18 PRO is a paid full-featured photo software so it has a lot of aspects that I am yet to explore and discover. Nevertheless, I am going to try and cover the most essential ones in this review.
With Zoner Photo Studio 18 PRO, almost everything that you need in viewing, managing, editing and even sharing your photos can be found in one software. It's indeed an all-in-one digital photo processing tool. Aside from the fact that its lets you view and manage your photos just like what you do in Windows Explorer, it also supports two-panel views which is great if you want to move, copy and compare your photos. That's not all. It also flaunts a nicely designed, stable and user-friendly interface that supports multi-tabbed editing. So you can easily edit multiple photos at once. It supports a wide range of image formats – even videos and bitmaps. It also supports notifications.
Zoner Photo Studio 18 PRO has three main tabs – one for "Manager", one for "Develop" and one for "Editor". The name of tabs says it all. Manager is for viewing and managing your photos, Develop is for adjusting the settings, color, exposure and sharpness of your photos while "Editor" is for applying quick "high-quality" effects as well as for other editing tasks like crop, align, clone, fill, erase, add shapes, add texts, rotate, skew, etc. So you basically just shift from one tab to another depending on what you want to do. Just keep in mind that if you apply changes to your photos and you're on the "Edit" tab, the changes will be saved on the original photo unless you choose "Save As". Keep this in mind especially if you do not want to lose your original photo or better yet, make a copy of your original photo first before editing it.
Now, moving on, Zoner Photo Studio 18 PRO also has a "Quick Fix" feature that you can find via the "Manager" tab. With this feature, you can quickly apply changes and even filters and watermark to your photos. This can be done for a single photo or even for multiple photos (a.k.a. batch edit). I find this feature very useful especially for applying quick photo effects and watermarks.
On the other hand, the said all-in-one photo software also supports the creation of panoramic images, HDR images, postcards and even PDF slideshows. You can also create a video in MP4 format (supports 1080p HD quality at 60 fps) out of your photos. The thing with its video editor is that it doesn't let you edit actual video files so don't expect that you can use it like Windows Movie Maker or any other video editor.
All in all, I really like this photo software. It's like what more can you ask for when you have Zoner Photo Studio 18 PRO? It's a very comprehensive tool and it's a great choice if you're currently looking for a premium photo software for Windows (especially Windows 10).
For price of less than $100, you can download and use this software. If you already own the previous version (Zoner Photo Studio 17), then you just need to pay the upgrade price of $49. If you're not yet ready to make the purchase yet, I would strongly suggest you download its 30-day free trial version first and see for yourself.
Conclusion and Download Link
Although Windows already has its built-in file manager, it doesn't really offer much for viewing, organizing and editing images. You have to resort to third-party apps. Now, compare the price of buying a paid photo management app plus a premium photo editing software with the price of Zoner Photo Studio 18 PRO. It's reasonably priced and you definitely won't regret getting one.
Price: Free 30-day Trial, Paid – $99
Version reviewed: Version 18 (Build 4) PRO
Supported OS: Microsoft Windows 7 / 8 / 8.1 / 10 (32 or 64 bits)
Download size: 65.7MB
VirusTotal malware scan results: 0/54
Is it portable? No
Zoner Photo Studio 18 PRO homepage
Related Posts