With many people not yet ready to update to Windows 10, there is a large amount of folks out there running Windows 8.1. If you don't have any intention on upgrading to Windows 10 and you would like to keep Windows 8.1 on all of your devices, you might be interested in learning how to sync Windows 8.1 settings on all computers and devices that are running Windows 8.1. At this time, Microsoft have not made it a possibility to sync your settings on devices running Windows 8.1 and have them transferred to the newer Windows 10 and it doesn't appear likely to happen any time soon. There is no quick fix for that problem. It looks as though You will have to adjust all the settings manually if you are upgrading to Windows 10.
Here's everything you need to know to sync Windows 8.1 settings on all computers and devices in just a few easy steps.
HOW TO SYNC WINDOWS 8.1 SETTINGS ACROSS ALL COMPUTERS AND DEVICES
Navigate to the PC Settings and you will see a full list just like the one below in the screenshot.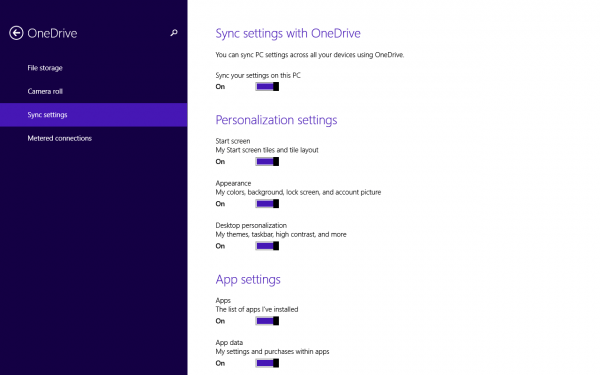 You can find the above screenshot by navigating to the Charms bar > Start Screen > PC Settings > OneDrive > and then finish by tapping the Sync option.
As you can see, the top option involves OneDrive and is the key to your syncing success. When you are installing Windows 8.1, you are given the option to set up with the synced settings from one of your other devices running Windows 8.1. The trick here is to set them up with the same email ID, as all of those settings from OneDrive are remembered with the help from your same email login ID. If you do not have the same ID, it won't remember your settings. This is all part of the new Microsoft accounts feature that was introduced in more recent versions of Windows but hasn't been around forever. One of the biggest upsides to having your own user account is you can use it to your advantage with syncing data.
Related Posts