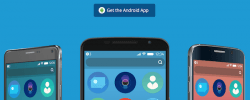 Usually when people find themselves bored with the current version of Android operating system they are running, we tell them to install a custom skin on the device and pick from one of the many custom ROMs. On the other hand, a custom ROM isn't always available for your devices, depending on what that device name is. Custom ROMs are generally a lot more readily available for the devices that sell more units because it offers more reasons for developers to cater for those devices. If a developer gets to choose between spending hours creating a custom ROM for the Google Nexus 6 or the Amazon Fire Phone, they'll likely chose the former because more people will be using the ROM they created due to the fact that it's a more popular handset.
In a similar fashion to Android, Firefox OS is Mozilla's very own open source operating system. While Android isn't open source any more after becoming property of Google, it was once purely open source. The Android that people know now fitted on a variety of mobile devices from a bunch of different OEMs isn't anywhere near as open source as many people are led to believe. Be that as it may, there is still another version of Android called the Android Open Source Project, which as the name suggests, does still work in an open source manner. Some of you may know the Android Open Source Project just as AOSP builds. While AOSP is great, it's not the same thing as the Android you get on your device when they are pumped out of the factory and delivered with a certain version of Android, whether it be KitKat, Lollipop or the newer Marshmallow.
Now that you understand about custom ROMs and what Android is and isn't, it's a great time to introduce you to a new operating system called Firefox OS 2.5 made by Mozilla. The Firefox OS in itself is nothing new. We have seen it around for years and it's never been too popular. Having said that, if you are interested in getting away from the current Android OS and a custom ROM isn't something you're interested in, you should check out the Firefox OS 2.5. Thanks to the new Developer Preview that's now out as of today, people can easily test out what Firefox OS 2.5 is all about on their very own devices. Here's all you need to install Firefox OS 2.5 on Android devices.
HOW TO INSTALL FIREFOX OS 2.5 ON ANDROID DEVICES
1. Head over to the official Mozilla Firefox OS 2.5 link from here.
– it directs you directly to the Mozilla website.
2. Click the button in the middle of the page, namely "Get The Android App".
3. Once the app is downloaded on your Android device, tap and open it just like you would any other app from the app drawer.
4. Enjoy your new Mozilla Firefox OS 2.5 operating system.
As you can see from the Mozilla website, this is a brand new release and as such is available as a developer preview. You don't need to be a developer to install developer preview; however, it's not as nice as a final release for your daily smartphone.
Related Posts