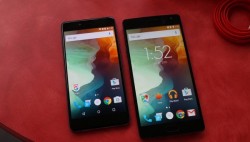 OnsPlus is the smartphone brand which force you into using that unique invite system. Once you can get past that, the device itself becomes far more appealing. Appropriately dubbed the flagship killer, the OnePlus aims to give users a device with flagship specs at a cheaper price.
Unlocking the OnePlus X bootloader is important if you want to get away from the stock Android that comes with your device, or if you want to install rooted apps. It's equally as important if you just want to install a custom recovery on your device so you can take a full backup without using adb commands.
REQUIREMENTS
The following guides teaches you how to unloock the bootloader on the OnePlus X smartphone. Many guides for unlocking the bootloader are similar and same are even the same. However, we cannot see what device you have in your hands and therefore we do not recommend following this guide unless you have the OnePlus X smartphone.
BEFORE WE BEGIN
Make sure you have enabled the USB Debugging Mode on your device by heading over to the menu > Settings > Developer Options > USB Debugging Mode. Moreover, head to the Menu > Settings > About Phone > tap the build number until it unlocks the Developer Options menu if you do not see any Developer Options menu from the settings.
Next, make sure you have the OEM unlock enabled by heading to the Menu > Settings > Developer options and check Enable OEM unlock.
Important: Do not start the guide unless you have backed up the device. Without a backup you cannot restore any of the data you will lose during the guide. Unlocking the bootloader wipes your device clean and you must backup or you will lose that data.
HOW TO UNLOCK BOOTLOADER ON ONEPLUS X
Learn how to set up ADB and fastboot on Windows PCs before doing anything else. You can follow our detailed guide for that.
Connect your OnePlus X smartphone to the computer using the USB cable.
Open the folder where you have ADB.
Hold the Shift key and right-click anywhere within that same folder where it's white space.
Choose to open the command prompt menu here from that new menu.
Type the first command: adb reboot bootloader
Type the next command: fastboot oem unlock
Press the top part of the information on your devices display. It should translate to something similar to "confirm and proceed" if it's not in English in your region.
Wait now as your devices bootloader is getting unlocked. It will eventually reboot automatically once it's done.
Nice one; that's all you need to do to know how to unlock bootloader on OnePlus X smartphones. You can now choose to install a custom recovery on your device if you want to take a complete backup without using adb command, or install a custom recovery. Furthermore, you need the custom recovery to get root access on this device.
Related Posts