Hopefully at this time you all got the November update for Windows 10 released last week thanks to Windows Update. This update brings your Windows 10 to build 10586. It's the first major update for the OS since its launch in July. As a part of the "Windows as a service" strategy, you'll see more big updates like this in the future. The November Update brings not only some new features, but also underhood improvements that would make Windows 10 more stable and faster. At dotTech, we'll cover every change in the update for you. Today, we'll show you how to install the update through Microsoft's Media Creation Tool if you get problem getting it from Windows Update.
As you known about the infamous mandatory Windows Update in Windows 10, it's the matter of time that you'll get every updates eventually. However, Windows Update sometimes just stops working and throws a weird error code. If you have tried everything but had no luck to get the thing to install November update, the Media Creation Tool is what you need.
The tool is from Microsoft will download the update or the entire Windows 10 ISO file to upgrade your system. You can download it from here:
https://www.microsoft.com/en-us/software-download/windows10
When you run Media Creation Tool, there are two options:
Upgrade this PC now: this option does what Windows Update does. The difference is that Windows Update does it silently in the background. If you get trouble with Windows Update and really want to upgrade your PC right away, go ahead and select this option.
Create installation for another PC: this is what we recommend to use in this case. This option will help you create a USB that can setup Windows 10 as well as an ISO file. When you have the ISO file, there's no need to wait to download the update again if your installation fails.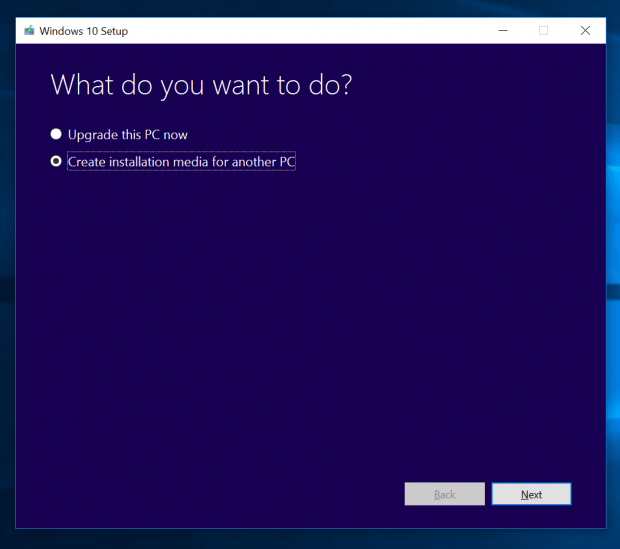 If you choose "Upgrade this PC now," what you need to do next is wait for it to download then follow the instruction. Otherwise, with the other option you will have an ISO file. To start setup from this ISO file, just double click the file and Windows will automatically mount it as a virtual CD drive. Afterwards, run the "setup.exe" file to start the upgrade program. You'll be asked a couple questions to verify you want to keep everything and upgrade your Windows 10. Just follow the screens and you'll be fine.
And that is it. Enjoy the November update and don't forget to visit dotTech to learn more about what's new in the update.
Related Posts