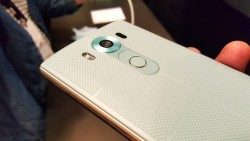 Updating Android devices and smartphones in general is usually not a task most of us need to think much about since most software updates come directly to our notification panels and as automatic over the air updates. All it takes is a click of a few buttons on your devices display, a dedicated 10 minutes and your device will update for you. Often the hardest part about the updating process is sparing the 10 minutes to love without being able to use our devices which is never fun.
Conversely, should you start delving into the world of getting root access on the LG V10 and install custom recoveries, you might also want to start taking manual updates. A custom ROM is always a manual update whereby the user doesn't find any custom ROM notifications arriving for updates; they are all installed via the custom recovery and manually uploading the zip files. People generally have to take that same approach with stock ROM update s when returning the device from a custom ROM to the stock ROM because you do not find the stock ROM updates coming in OTA or you shouldn't install them even if you do.
Knowing what I've just told you about the LG V10, there are three main ways we can update the LG V10. The first twp are installing official stock ROMs either using the over the air signals or by installing that stock ROM file manually on your device with the help from a computer. The third way is to update your LG V10 with a custom ROM. A custom ROM offers an  experience from the ROM that Android and your OEM/phone carrier network provide and often comes with additional features. Some of those features are new features which belong to newer stock ROM updates that haven't arrived for your device yet but the have arrived for other devices which were ahead of your device in the software update pecking order.
HOW TO UPDATE LG V10 SMARTPHONES
Download the official firmware file for your device from a trusted source on;line and when the firmware becomes available. That firmware might be Android 5.1.1 Lollipop, Android 6.0 Marshmallow, or any other updates in the future.
1. Download the LG Flash tool.
2. Download the LG USB Drivers on your computer so the phone can talk to the computer and its programs.
3. Boot the LG V10 into download mode.
4. Extract the firmware file on your computer.
5. Run the LG Flash tool on your computer.
6. Load the firmware file in the LG Flash Tool and it will flash your device with that software update.
Related Posts