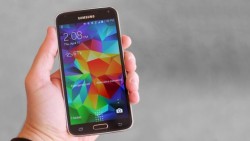 There are some awesome apps you can install on your device after you root Samsung Galaxy S5 SM-G900H smartphones on Android 5.0 Lollipop. One of those applications is the Tasker app. With Tasker, you can have total automation control on your device and even create apps. To get it and hundreds or others cool apps, just follow the guide below.
REQUIREMENTS
The rooting tool is made for Android 5.0 Lollipop and firmware build number LRX21T.G900HXXU1BOAD. You must be running that build number to use this guide or risk bricking your device.
The following guide is made only for the Samsung Galaxy S5 SM-G900H smartphone. That means you must have the SM-G900H model number or else you risk bricking your device.
BEFORE WE BEGIN
You must have the bootloader unlocked on your Samsung Galaxy S5 smartphone before you can use this guide. It doesn't work with a locked bootloader.
Download the Samsung USB Drivers for mobile phones from the Samsung website or by grabbing them from the third party link found on the Same USB Drivers page.
You need to unlock the Developer Options menu by tapping over the build number you can see from the About Device menu. After about 7 taps, it will tell you that you are now a developer. That's a fancy way of stating that the Developer Options menu is now available from the Settings menu.
Knowing that, head back to the original Settings menu now and then tap to enter the newly unlocked Developer Options menu.
HOW TO ROOT SAMSUNG GALAXY S5 SM-G900H RUNNING ANDROID 5.0 LOLLIPOP
Download the CF-Auto-Root tool from this link.
Download the latest Odin tool from this link.
Extract both files on your desktop. Do that by right-clicking over the files and choose the option to "extract here".
Turn off the Samsung Galaxy S5 smartphone by pressing the Power button and tapping the Switch Off option from the Device Options menu.
Reboot the Samsung Galaxy S5 in download mode.
Connect the Samsung Galaxy S5 to the computer with the USB cable.
Click the PDA or the AP button and browse the desktop for the extracted CF-Auto-Root file.
Leave the default settings in Odin. The default settings are the settings you see when installing a new version of Odin on your computer.
Click the Start button.
After at least ten minutes, look at the messages box from the Odin user-interface and wait for a pass message.
Once you get the pass message, your S5 device will automatically reboot.
Once rebooted, you can take control of your Google account and start installing the apps that require root access.
Related Posts