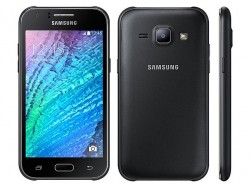 A hard reset on the Samsung Galaxy J1, also known as a master reset or a factory reset, is a serious reset mode that returns your smartphone to the way you first found it when you opened it out of the packaging. Since we undoubtedly play with our smartphones a great deal, it's only a matter of time until something goes wrong with the software for many of us. Sometimes those software issues can be fixed with a simple soft reset. However, those suffering from more serious bricking symptoms will need to press the button combination for a hard reset.
You hear people always telling you that you need to take backups often and regularly. The factory reset on Samsung Galaxy J1 devices is a great example why. If you haven't backed up the device by the time something goes wrong, it might be too late. If you can hard reset your device you will recovery your device so it works again, but the data will be wiped. The reason for that is because when you hard reset Samsung Galaxy J1 smartphones, you first wipe the data automatically and that same data cannot be restored unless you backed up the device beforehand.
REQUIREMENTS
Do not apply a hard reset without backing up your data first. The data we are referring to includes your pictures, music files, video files, call logs, SMS and MMS text messages, settings and phone contacts. Without a copy of this data you cannot restore the data. You are wiping the device clean of all data you had stored by applying a hard reset. There are two kinds of resets. Only the soft reset continues to store your devices data. Once it's wiped you will never get it back again.
Make sure you have enough battery power to complete the steps without your device turning off. That's especially true for during the reset. A hard reset can take a long time to complete and you don't want the device shutting off until it's complete. Those of you already half way through a reset and worried about it turning off and connect it to a power source.
HOW TO HARD RESET SAMSUNG GALAXY J1
Turn off the device by pressing the Power button quickly and selecting the Switch Off option under the Device Options menu.
Reboot the device by holding the Volume Up + Home + Power buttons to get your device in the recovery mode.
Wait until you see the Android logo before releasing those same three buttons.
Press the Power button by itself until your device boots into the recovery mode.
From the recovery menu, select the "wipe data/factory reset" option.
A factory reset is Samsung's way of saying the hard reset. Both names mean the same thing and function in the same way. You might also hear some people referring to it as a master reset. Ideally all manufacturers call them the same thing so nobody gets confused, but once you know they are the same it's easy to remember.
Related Posts