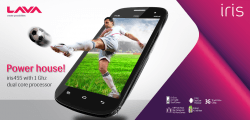 Hard resetting the Lava Iris 405 smartphone is what you want to do when you have bugs that you cannot solve. It's also the option to take if you want to sell the Lava Iris handset. Once you hard reset the Iris 405, you are wiping every last bit of data that was once on the device. Essentially all the data you put on the device after opening it up out of the box is now erased. That means you will have nothing to worry about when you decide to sell it or give it away to another person.
REQUIREMENTS
Hard resetting combinations can often change between devices. It's best you only follow this guide for the Lava iris 405 and look up a unique guide for any other device, especially if it's not by lava.
BEFORE WE BEGIN
Make sure you backup the device before deciding to hard reset unless you do not want a backup. You are wiping the device and all data cannot be restored again unless you have a backup copy.
HOW TO HARD RESET LAVA IRIS 405
Press the Power button and keep it firmly pressed down until you can see the device is off and not just sleeping.
Reboot the Lava Iris 405 smartphone by holding the Volume Down and Power buttons together.
– you must do this step holding both buttons at the same time or else it won't work.
Keep holding the buttons until you see the Blue menu on your devices display.
Eventually you should see the heading factory Mode with other options beneath it, including the Auto Test, Item Test, Test Report, Debug Test, Clear eMMC and Version Reboot.
Scroll down the list using the Volume Down button and stop when you have the Clear eMMC option.
Great job; you just hard reset Lava Iris 405 smartphones in just a few minutes. Once your device is reset, you'll need to create a new account and set up the device again. Your old account is now wiped and cannot be restored.
Related Posts