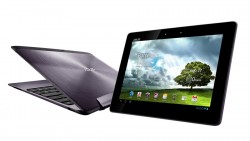 These are the instructions to root Asus Transformer Pad Infinity TF700KL devices using Framaroot.
REQUIREMENTS
The following guide is made for the Asus transformer Pad Infinity only. Please sought after a different guide if you have a different device.
BEFORE WE BEGIN
Understand that following this guide using the Framaroot method will void the warranty on your device. The reason being that whenever we install a custom recovery, unlock the bootloader or grant root access to our devices internal system, we are voiding the warranty. All three actions come under the one heading of unlocking the operating system away from the default factory restrictions.
You should backup the Asus Transformer Pad Infinity before starting the guide. You do not lose any data by rooting the device using this Framaroot method. Furthermore, the Framaroot application is one of the safest ways to root a device since it's nearly impossible to brick a device. With that being said, your device can have problems as any time and you might prefer taking a hard reset over the other option of spending hours trying to problem solve. If that's the case, the hard reset will wipe your device data clean and you'll be relying on restoring that data from a backup to get your device looking the way it is now.
HOW TO ROOT ASUS TRANSFORMER PAD INFINITY TF700KL
Download the Framaroot APK from this link and have it on your desktop.
Make sure you have the Unknown Sources option from your Android operating system enabled. You can find that by heading to the Menu > Settings > Security > Unknown Sources.
Connect the Asus Transformer Pad Infinity to the computer using the USB cable.
Transfer the Framreoot APK file over to the devices root of the SD card. Keeping it at the root level means not hiding it any of the potential sub folders.
Unplug the Transformer Pad from the computer.
Launch any File manager on your device. If you do not yet have a File manager, you can find at least ten great options available from the Google Play Store. there are some paid options like the Astro File manager and some free open source options out there too.
Once you have installed the Framroot APK file using the File manager, you should see the Framaroot icon now available from your devices application drawer.
Tap and open the Framaroot app.
Choose the Gandalf exploit option from the apps main page.
Wait for the same Gandalf exploit to successfully root your device.
Exit the application and reboot your device manually once it's done.
Terrific; now you know how to root Asus Transformer Pad Infinity TF700KL using the one-click rooting tool, namely Framaroot.
Related Posts