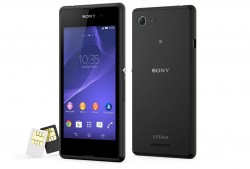 The KingRoot tool is the best way to root Sony Xperia E3 Dual on Android 4.4.4 KitKat OS versions, since the universal one-click rooting application has been recently updated to work with your device. Here's how to root Sony Xperia E3 Dual smartphones on the current Android OS (Android 4.4.4).
REQUIREMENTS
The following guide is made for the Sony Xperia E4. The same one-click rooting tool works for many devices and you cannot brick your device by using this tool. However, you should look for a unique guide if you do not own the Sony Xperia E3 smartphone.
BEFORE WE BEGIN
You are voiding the Sony Xperia E3 Dual's warranty when you choose to root the device using the KingRoot universal one-click rooting tool. You can open the KingUser app from your app drawer once you install KingRoot and choose the unrooting option if you want to return the device back to stock so it can be sent away for free repairs.
The following guide is also how to root Sony Xperia E3 Dual without a PC; however, we are giving you the steps to transfer the file from a computer first. We do that because it's the safest way to transfer a file. With that being said, you do not need to transfer the file if you do not have a computer. Just download the KingRoot tool directly from the source to your device and install it using a file manager.
HOW TO ROOT SONY XPERIA E3 RUNNING ANDROID 4.4.4 KITKAT
Download the KingRoot universal one-click rooting tool from this link.
Connect the Sony Xperia E3 Dual handset to the computer with the USB cable.
Transfer the KingRoot APK file (still zipped) over to the root of the SD card.
Unplug the device from the computer.
Launch any File Manager on your Sony Xperia E3 device and install the KingRoot app so it's available from your app drawer.
Tap on the KingRoot app icon and open the official rooting app on your device.
Tap the large button suggesting Root on your device from the main page.
Wait until the app tells you that it was successful and the next the app just like you would any other app.
Reboot the Xperia E3 Dual manually and then open the Google Play Store to start installing your apps. You can also find many apps that require root access available from other app stores like the App Brain website. Furthermore, sometimes the developers have the APK files available from the official websites.
Related Posts