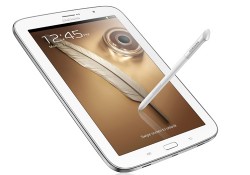 Want to keep track of your kids? The Children Tracker application is just one of the many rooted apps available for your Samsung Galaxy Note 8.0 smartphones after you complete the guide below to install Chainfire's CF-Auto-Root on your device. While the kids as sure to hate the Children Tracker app, you'll be able to keep track of them like you have your own chopper in the sky.
REQUIREMENTS
The following guide is made for the Samsung Galaxy Note 8.0 with the model number GT-N5100 only. You must check your model number matches before starting the guide. You can find your model by pointing to the Menu > Settings > About Device > Model Number.
The rooting method uses Chainfire's CF-Root tool that is based on Android 4.4.2 KitKat with the KOT49H.N5100XXDNH3 build number. Downgrade to that version if you want to root safely without risking soft-brick and bootloop issues.
BEFORE WE BEGIN
You can only follow this guide if you are using a Windows computer. Any Windows operating system running Windows XP and up should do the trick. However, some versions of Windows RT running on a Microsoft Surface tablet cannot use this guide since they can only install apps from the Windows App Store.
Download the Samsung USB Drivers for mobile phones from our USB Driver downloads page for all manufacturers.
HOW TO ROOT SAMSUNG GALAXY NOTE 8.0 ON ANDROID 4.4.2 KITKAT
Download the updated rooting package from Chainfire's repo here.
Download the Odin flashing tool from here.
Extract the files on the desktop of the computer by right-clicking and choosing the option that says "extract here" from the menu.
Boot the Samsung Galaxy Note 8.0 up in download mode by holding the Volume Down + Home + Power buttons together when you are booting the OS.
Release those three keys and press the Volume Up button when the galaxy Note 8.0 display says to do so.
Connect the Galaxy Note 8.0 to the computer using the USB cable.
Click the AP or the PDA button and browse the desktop for the updated executable CF-Root package.
Click the Start button and the Odin flashing tool will flash that root file on your device.
Wait until the Odin user-interface gives you the pass message and your Galaxy Note 8.0 reboots automatically before you close down the Odin app on the computer. You'll need to reboot the device manually if it doesn't happen automatically.
Once the Galaxy Note 8.0 reboots, you already have the SuperSU app available from your app drawer, so it's time to start installing the rooted apps you have been wanting to try.
You might want to try the Children Tracker app as your first rooted app to go on your Samsung Galaxy Note 8.0 device.
Related Posts