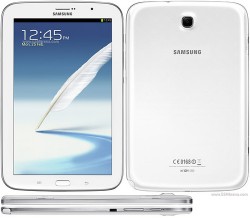 Do you get into PC gaming and would like to enhance your gaming on the Samsung Galaxy Note 8.0 device? Once you complete the guide below and root the Samsung Galaxy Note 8.0, you can install the FPS Meter application that only works with a rooted Android. With the FPS Meter app running, you can give the appearance of SD gaming to rival your PC gaming without changing the internal hardware of your Android device at all.
REQUIREMENTS
The following guide is made for the 4G LTE variant of the Samsung Galaxy Note 8.0 that comes with the model number GT-N5120. You can check your model number by pointing to the Menu > Settings > About Device > Model Number.
The CF-Root package available in this guide is made for firmware build KOT49H.N5120XXDNH3 based on Android 4.4.2 Kitkat. We advise flashing that stock ROM on your device before using this guide to root the same.
BEFORE WE BEGIN
Download the Samsung USB Drivers from the official Samsung website or by visiting our USB Drivers downloads page.
Make sure you have a Windows computer when using this guide. The USB Drivers and the flashing tool we are using throughout the guide is made for the Windows platform only. You cannot use Odin if you have a Mac or Linux system.
HOW TO ROOT SAMSUNG GALAXY NOTE 8.0 GT-N5120 ON ANDROID 4.4.2
Download the updated CF-Root package from here.
Download the latest Odin flashing tool from this link.
Extract the files to the desktop of your computer by right-clicking the mouse over them and choosing the "extract here" option from the menu.
Boot the Samsung Galaxy Note 8.0 in download mode and connect it to the computer.
Click the AP button or the PDA button and browse the desktop of the executable CF-Root file you extracted earlier.
Click the Start button when you are ready to flash that rooting exploit on your device.
Wait until you get the green pass box light up from the Odin user-interface and your Galaxy Note 8.0 device reboots before unplugging from the computer.
Your device now has the SuperSU app installed and keeping your device safe. You can open the Google Play Store application and start installing the rooted apps you have been waiting to use.
You can try the FPS Meter app as your first rooted app to go on the Galaxy Note 8.0 device if you are wanting some ideas of where to start.
Related Posts