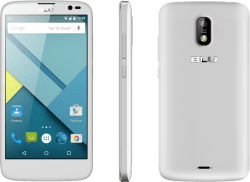 These are the guidelines to unroot Blu Studio G smartphones using the KingUser app that comes as part of the KingRoot bundle.
REQUIREMENTS
You need to have rooted the Blu Studio G using the KingRoot app. At the time of writing this post, the only way to root the Blu Studio G handset is by installing the KingRoot desktop app. However, it shouldn't matter if you have used the desktop version or the app on your device — both versions of KingRoot will result in the installation of the KingUser app, and that's how we are unrooting today.
BEFORE WE BEGIN
You do not need to do anything on your device apart from still have the KingUser app available from your app drawer. You'll need to re-install the KingRoot app if you have deleted it. By installing the KingRoot app on your device, you are getting the KingUser, KingMaster and KingRoot apps.
Once you have successfully unrooted the Blu Studio G smartphone, you should find the warranty working again.
HOW TO UNROOT BLU STUDIO G SMARTPHONE AFTER ROOTING WITH THE KINGROOT APP
Open the KingUser app.
Tap the gear icon (the settings) from the top right side of the display.
Tap the "Root Authorization Settings" option.
From the "Root Authorization Settings" tap the "Remove Root Permission" button.
You should see a new message that says "remove root and return to the unroot status. proceed?".
Tap on the "Clear" button on the right side of the pop-up message box.
Wait a couple of minutes for the KingUser application to remove the KingMaster, KingRoot and finally the KingUser (itself from your device.)
That's all you need to unroot Blu Studio G smartphones using the same universal one-click rooting application you originally used to root the device.
As we said earlier, those of you who might have rooted sometime in the future using a different rooting method cannot follow this guide. The above steps only work for those who have installed the KingRoot application on their handsets.
If you are struggling to work out a way in which you can unroot the Blu Studio G smartphone because the method you used doesn't have any obvious ways to unroot, you should have no problem flashing a stock ROM back on the device. By flashing a stock ROM you are always going to unroot the device. Furthermore, flashing a stock Blu Studio G ROM manually using a flash tool and a computer is always safe. The same cannot be said for anyone who has root access and is accepting an over the air notification for a software update. Generally speaking, you want to be flashing that root away manually and not with an OTA update. Once you are running the stock ROM, you can accept those OTA notification again safely in the future with any updates.
Related Posts