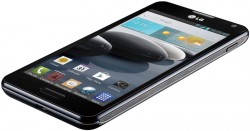 Installing a custom recovery on the T-Mobile variant of the LG F6 isn't too difficult thanks to a helpful APK file containing the CWM recovery inside. Those with the T-Mobile version of the F6 handset can only install ClockworkMod, while those with the MetroPCS version have TWRP available. You do not get a choice this time around.
ClockworkMod recovery is still a favorite choice by many anyway, and F6 owners will be happy to learn that all main custom recoveries come packed with the same features. There's nothing TWRP does better than CWM. The only difference is in the deliver where CWM still uses the old-school Volume and Power key combination to navigate, highlight and select the options of your choice.
Here are the guidelines to install CWM recovery on LG F6 T-Mobile smartphones:
REQUIREMENTS
The following guide installs the ClockworkMod recovery on the LG F6 smartphone. Do not follow this guide if you have a different device in your hands as it will not work and you can damage the device.
BEFORE WE BEGIN
Make sure you have the USB Debugging Mode enabled on the F6 device by tapping the Menu > Settings > Developer Options > USB Debugging Mode.
Make sure you have the Unknown Sources option enabled on the F6 device so you can install third-party apps by tapping the Menu > Settings > Security > Unknown Sources.
You are voiding the warranty by following this guide. You'll need to flash the stock recovery back on your LG F6 device before you can get the warranty working again.
HOW TO INSTALL A CUSTOM RECOVERY ON LG F6 T-MOBILE
Download the app containing the CWM recovery from the Android Forums thread here.
Connect the F6 smartphone to the computer using the USB cable.
Transfer the custom recovery APK file over to the SD card.
Unplug the F6 handset from the computer once you have the file on the SD card.
Launch one of the File managers you have on the device, or grab one from the Google Play Store.
Open the app from the F6's app drawer and tap the 'recovery apply' button.
Tap on the 'reboot' button once the recovery finishes installing.
The LG F6 smartphone will now reboot back into normal mode after flashing the custom recovery on the device. You'll need to boot your device into the recovery mode by using the same hardware keys you used for the stock recovery, or by downloading the Quick Boot application that is available from the Google Play Store.
The Quick Boot app is an incredibly popular app for those wanting a quick solution to boot smartphones and tablets into various modes. The only downside is that it requires you to have the device rooted before it will work wonders for you.
Related Posts