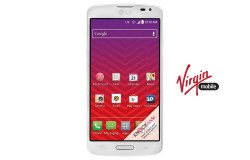 These are the guidelines to install TWRP Recovery on LG Volt smartphones.
REQUIREMENTS
You must learn how to set up ADB on your computer before starting the guide. Our guides teaches you how that's done on a Windows PC. You can follow other guides online if you have a Mac or Linux computer.
BEFORE WE BEGIN
Make sure you have over 50% of the battery power still remaining on your LG device before you start the steps. Not only do you want the battery to not turn off during the guide but it's also important to give it power to work properly.
You need to turn on the USB Debugging Mode if the settings is currently off on your LG Volt handset; do that now by tapping over the Settings > Developer Options > USB Debugging Mode. Those of you who do not see the Developer Options menu will need to unlock the same by tapping over the Menu > Settings > About Device > Tap the build number until it says you are using the device as a developer.
HOW TO INSTALL TWRP RECOVERY ON LG VOLT
Download the TWRP Recovery for the Volt from this link.
Save the custom recovery file to the desktop and then shift it over to the same folder as your ADB.
Rename the recovery file to recovery.img if it does not have that name already. You can do that by right-clicking the file and choosing the renaming option from the menu.
Connect the Volt smartphone into the computer with the USB cable you use to charge the battery.
Open the folder where you have the ADB and TWRP, hold the Shift key and right'click the mouse where there are no files within that folder.
It should result in your seeing a new menu on the desktop where you can choose to open a new command prompt window here.
Type the first command: adb reboot bootloader
Type the next command to install your new recovery and wipe the old one: fastboot flash recovery recovery.img
Type the last command: fastboot reboot
The LG Volt smartphone will now reboot back into the normal mode where you can start using your device again like normal. People with the LG Volt rooted can now head over to the Google Play Store and install the Quick Boot application. Open the Quick Boot application and choose the option for booting your device into the recovery mode. It will now boot the Volt handset up in the TWRP recovery you just installed.
Moreover, those of you who do not have the device rooted, or just do not want to install apps, can use the same hardware key combination for the custom recovery mode that they would normally use for the stock recovery mode.
Related Posts