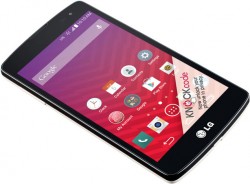 These are the instructions to install CWM Recovery on LG Tribute smartphones using the ROM Manager application that is available from the Google Play Store.
REQUIREMENTS
The following steps are made for the LG Tribute smartphone only. You will need to root the LG Tribute before you can follow this guide to install the custom recovery on the device.
BEFORE WE BEGIN
Understand that by choosing to flash a custom recovery on the LG Tribute smartphone, you are choosing to void the warranty. You can install the stock recovery back on the Tribute device at any stage in the future. Your smartphones will only ever be working with one choice of recovery at a time and they are always interchangeable.
HOW TO INSTALL CWM RECOVERY ON LG TRIBUTE
Open the Google Play Store application directly from your Tribute smartphone.
Login to your Google account so you can start installing new apps.
Browse for the ROM Manager application and proceed to install the same.
Head back out of the Play Store and navigate to your app drawer to tap on the ROM Manager app.
Once the ROM Manager app is open, tap over the "Flash ClockworkMod Recovery" option.
Do not touch anything until the recovery is flashed on your device.
Exit the ROM Manager app and reboot the device.
You can choose to reboot it up directly to the custom recovery mode, or you can just reboot it normally and use the device as you normally would, saving the custom recovery for a rainy day. Since your LG Tribute smartphone is already rooted, you can head back to the Google Play Store and download the Quick Boot app. The Quick Boot app is both extremely useful and popular — it has the unique ability to boot your devices up in the various modes you need. The app requires root access to run which is why not everyone uses the app.
Related Posts