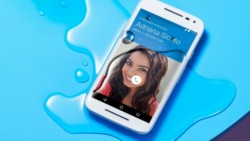 These are the guidelines to root Moto G Turbo Edition smartphones running on Android 5.1.1 Lollipop operating systems. You should find the guide will continue to work for all software updates in the future, since we are just flashing the SuperSU with the help from our custom recovery we installed earlier. Those of you who have not installed a custom recovery yet can find the link through to get that done, as well as unlock the bootloadeer, from our requirements section.
REQUIREMENTS
BEFORE WE BEGIN
By wary that you do void the Motorola warranty when you choose to go ahead and rooting the Moto G Turbo Edition. You can unroot, flash a stock recovery and lock the bootloader again any time you want to send the smartphone away under warranty. None of those things aren't reversible.
HOW TO ROOT MOTOROLA MOTO G TURBO EDITION ON ANDROID 5.1.1 LOLLIPOP
Download the SuperSU for the Moto G Turbo smartphone from this link directly to the computer.
Connect the Moto G Turbo device to the computer with the USB cable and copy the SuperSU to the root of the internal storage SD card.
Boot the Motorola Moto G Turbo Edition up in the custom recovery mode. You must do that using the hardware keys or the adb commands. The Quick Boot app does not get it done yet until you have root access.
So, those of you with the command window open can type "adb reboot recovery" and those using the hardware keys can press the Power button to turn off the device completely. Now reboot it by pressing the Volume Down for a few seconds, followed by the Power button and keep them both pressed in for about a second or two before releasing them. You should now see the bootloader mode on the display.
Tap the 'Install' option from the main recovery menu.
Tap the option for browsing the SD card and upload your SuperSU file.
Swipe the bottom of the display to confirm you do want to flash that SuperSU file and do not touch any buttons until the flashing is complete.
Go back to the main recovery menu and choose the 'Reboot System' option.
The Moto G Turbo Edition will reboot back in normal mode and you can start using your device.
You have just learnt how to unlock the bootloader, install a custom recovery and root the Moto G Turbo smartphone. Rooting means you can now install any of the apps that needed rooting permissions to run. Moreover, it means you can start installing the custom ROMs that require root access to run. The custom recovery means you can start taking easy and complete backups with the NANDroid backup feature. Additionally, it means you can upload and flash your new ROM files, while still effectively being able to recovery your device like a normal recovery mode. None of that would've been possible without unlocking the bootloader first.
Related Posts