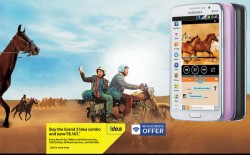 These are the guidelines to root Samsung Galaxy Grand 3 SM-G7200 smartphones using the universal one-click rooting application, namely KingRoot.
REQUIREMENTS
The KingRoot app is working for the Galaxy Grand 3 with the model number SM-G7200, but there is no confirmation this method works on any of the other model numbers from the Samsung Galaxy Grand 3 range. You can check your model number by navigating to the Menu > Settings > About Device > Model Number.
BEFORE WE BEGIN
You are voiding the warranty when you follow this guide to root the Samsung Galaxy Grand 3 smartphone. The KingRoot universal one click rooting app comes with an easy unrooting method directly from the app you can use if you ever want to unroot the device and return to the stock ROM. By running the stock ROM and unrooting the Samsung Galaxy Grand 3 smartphone you are allowing the warranty to work once again. You can keep going from root to unroot as many times as you want and the warranty will continue to work and not work accordingly.
HOW TO ROOT SAMSUNG GALAXY GRAND 3 SM-G7200
Download the KingRoot app directly to the desktop of your computer.
Turn on the Unknown Sources for your Samsung Galaxy Grand 3 smartphone by tapping over the Menu > Settings > Security > Unknown Sources.
Connect the Samsung Galaxy Grand 3 smartphone to the computer using the USB cable.
Copy the KingRoot APK file over to the internal storage SD card.
Unplug your Galaxy Grand 3 smartphone from the computer using the USB cable.
Launch any FileManager on your device and install the APK so it turn into app form and is available from your Grand 3's app drawer.
Head over to the app drawer and tap directly over the app that says KingRoot.
Tap on the large button that suggests rooting your device. It will probably say something like 'Get Root'.
Wait for the KingRoot app to finish rooting your device before you exit the app or press any buttons. You can easily see when it is complete by observing the progress bar reach 100% and the app giving you a success message.
Close the KingRoot application and reboot your device before you attempt to start installing your root-only apps from the Google Play Store.
Open the Google Play Store application and choose to install the basic root checker application for your device.
Tap and open the root checker app from your app drawer once it finishes downloading and agree to allow the Superuser access.
Now the app will let your know if you have rooted the Samsung Galaxy Grand 3 smartphone or if it still needs another try.
You can check out how to unroot the Samsung Galaxy Grand 3 smartphone before going ahead and rooting the device if you feel more comfortable seeing what is required to return your device back to the stock Android with a locked operating system.
Related Posts