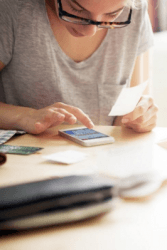 If you're a tech lover, and also a fan of stepping out and about without having to lug around a heavy wallet, you're sure to love the functionality of the Apple Pay system. This contactless payment platform allows users to pay for goods and services at compatible NFC terminals with a wave of their iPhone. The app is currently available for use in the United States, Canada, the United Kingdom, and Australia.
Install Apple Pay on your phone, configure your best rewards credit card or preferred debit card in the system, and you're good to go. The platform works seamlessly once it has been set up (meaning that you won't be stuck without a means of payment on those days when you accidentally leave your wallet at home or in the office), and the built-in TouchID sensor on your iPhone acts as an ID mechanism, which prevents any unauthorized usage. Your credit card information never gets synced to the cloud or leaves your phone, and one-time tokens are created when you pay in store so retailers never get access to your data.
Keen to give Apple Pay a whirl today? If so, read on for the simple steps you need to take to set up the system on your iPhone.
To Get Started
In order to be able to use Apple Pay you need an iOS device that's quite current. You'll need:
iPhone 6 or iPhone 6 Plus
Using iOS 8.1 or above
An iCloud account
Your fingerprint registered with Touch ID
A credit or debit card issued by a supporting bank.
The list of banks is growing all the time, so to find an updated list head to Apple's site for details — organizations are broken down by country.
Linking Your Card
The next step is to link your credit or debit card with the Apple Pay system. To do this, open the Passbook on your iPhone, and then pull down from the top of the screen to reveal the plus sign (located in the upper right-hand corner). Tap on this and locate the "Set Up Apple Pay" option. Once you have selected this heading, you can choose to either link the app with your existing iTunes payment method, or an alternative card.
For your existing card, you simple need to login to your iCloud account when prompted, and tap on the "Use Card on File with iTunes" option. You will need to verify the three-digit security code that is found on the back of your credit card to proceed, as well as accept the app's terms and conditions.
If you want to link a new card, you can easily add it to Passbook by using the camera function on the phone and choosing the "Add a New Credit or Debit Card" option. Alternatively, you can also manually enter the card numbers. (Please note that the system's photo-detection function can only work with embossed numbers, so if you have a card that has flat digits, you will have to type in the details manually.) From there you will also again need to type in the security code that is found on the rear of your card.
To proceed, select the "Next" button so that information is sent to your bank, which has to verify the data. There are different procedures involved for different banks, with some institutions requiring you to enter an activation code that they text you or send via an automated call. Once the bank has verified your information you'll need to hit the "Next" button again, and then potentially wait for a few seconds for Apple Pay to activate your card. Once that has been done you'll receive a notification from the app that you're ready to go, and you can start shopping from your iPhone straight away.
Making a Payment
When you're ready to make your first payment using Apple Pay, you'll find the system is simple enough. When you're at the checkout, all you have to do is hover your phone over the NFC card reader, with your registered finger resting on the Touch ID button. Passbook will launch automatically, and then your cell will vibrate and make a pinging sound to alert you that a payment has gone through. A confirmation of the purchase will show up via a tick and the word "Done" appearing on your screen.
It's important to note that the first card you add to Apple Pay automatically becomes the default card that is used to pay for purchases. If you want to change this, all you have to do is go to "Settings" on your iPhone, select the "Passbook & Apple Pay" option, and then tap on the "Select Default Card" heading.  From here just select the card that you would prefer to have as the default, and it will be used as such in the future.
Related Posts