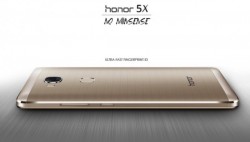 These are the steps to root Huawei Honor 5X smartphones running on Android 5.1.1. a.k.a Lollipop. The guide is simple: just boot your device up in the custom recovery we just finished installing and flashing the SuperSU package by Chainfire.
Some of you might know Chainfire from his meticulous work looking after Samsung devices and rooting just about every Samsung device worth owning. Chainfire doesn't having anything to do with the rooting and custom recovery method here apart from the fact that his version of SuperSU is able to be flashed on most devices from the Huawei range once a custom recovery is available.
REQUIREMENTS
BEFORE WE BEGIN
Realize that by rooting the Huawei Honor 5X smartphone you are choosing to void the warranty. You can unroot the device anytime you want and get that warranty working once again. Additionally, you can keep on rooting and unrooting as many times as you like and the results will not change. A stock ROM unrooted will always give you are working warranty.
While we need you to have a Windows PC to install ADB with our guide, the process of rooting can be done from any operating system. So on that note, if you have left your Windows at home and can only for this part from Mac or Linux operating systems, it will still work.
HOW TO ROOT HUAWEI HONOR 5X RUNNING ANDROID 5.1.1
Download the SuperSU package from this link to the desktop of your computer.
Connect the Honor 5X smartphone to the computer with the USB cable.
Transfer the SuperSU package to the root of the internal storage SD card.
Unplug your Honor 5X from the computer.
Boot the Honor 5X device into the custom recovery you installed earlier.
Navigate through the recovery Mode menu using the Volume keys and make your selecting by pressing the Power key.
Choose the 'Install' option from the Recovery Mode menu.
Browse the internal storage SD card.
Confirm you do wish to install the SuperSU on your smartphone by swiping at the bottom of the display where the TWRP is requesting that be done.
Choose the 'Reboot System' from the main TWRP recovery menu once your SuperSU is flashed and your device will then reboot back into the normal mode how you normally use your device.
Related Posts