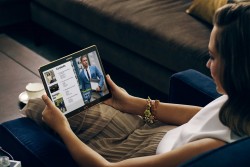 These are the guidelines to install a custom ROM on Samsung Galaxy Tab S2 tablets using your SD card and a custom recovery.
REQUIREMENTS
The custom ROM links in the guide are for specific model numbers. Check what the thread says about the model number before installing it on your device. You can check your model number by heading to the Menu > Settings > About Device > Model Number.
You must have a custom recovery installed on the Samsung Galaxy Tab S2 before you can install a custom ROM on the device.
You must root the Samsung Galaxy Tab S2 SM-T810 or SM-T710 before you can install a custom ROM on the device.
You will likely need to download a Google Gapps package for your ROM if you want the Google stock apps running.
BEFORE WE BEGIN
Installing a custom ROM on the Galaxy Tab S2 does void the Samsung warranty. Any device with Samsung's Knox security will find it difficult to get that warranty back.
Make sure you do not skip the step for taking a NANDroud backup during the guide or else your data cannot be restored. During the flashing of a new ROM on your device, we are going to wipe the current ROM and any data that is not backed up before then cannot be restored. The backup itself is very easy thanks to the NANDroid backup button from within your recovery.
You will need a computer during the guide to transfer your ROM file over to the root of the SD card internal storage on your tablet. It doesn't matter what operation system is running on your computer; they all will work the same for transferring your files only. However, you may wish to turn off your security features from the computer, regardless of the operating system that is running.
HOW TO INSTALL A CUSTOM ROM ON SAMSUNG GALAXY TAB S2
Choose the custom ROM for the Tab S2 and download it to the desktop of your computer:
Connect the Samsung Galaxy Tab S2 to the computer using the USB cable.
Copy the custom ROM zip file over to the internal storage SD card.
Unplug your Tab S2 from the computer.
Boot the Galaxy Tab S2 tablet in recovery mode.
Tap over the 'Backup' option from the recovery mode menu.
Tap in the 'Install' option from the recovery menu.
Browse the SD card for the custom ROM you wanted to install.
Swipe the bottom of the display to confirm you want to install that new ROMs zip file.
Choose the 'Reboot System' option from the recovery menu.
The Samsung Galaxy Tab S2 will now reboot back in normal mode and your custom ROM will be running after it boots.
Related Posts