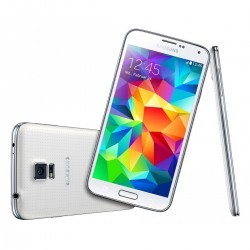 These are the guidelines to root Samsung Galaxy S5 SM-G900t3 smartphones running on the Android 5.1.1 Lollipop update thanks to the CF-Auto-Root tool by Chainfire which enables and installs SuperSU on your device. You will see the SuperSU application available from your S5's usual app drawer and it will grant the permissions to the apps that root require access on your smartphone to run
REQUIREMENTS
You need the Samsung Galaxy S5 smartphone that has the model number SM-G900T3 to use this guide or else you risk bricking the device. You can easily make sure that never happens by putting on your glasses and tapping the Menu > Settings > About Device > Model Number.
The CF-Auto-Root tool found in this guide is based on the LMY47X.G900T3UVS1FOJ4 firmware — a version of Android 5.1.1 Lollipop for some regions. That LMY47X.G900T3UVS1FOJ4 firmware version is not available for all regions, and as such, you do not need to be running that firmware to follow this guide. Chainfire gives that firmware ID so it is used as an indicator.
BEFORE WE BEGIN
Download the Samsung USB Drivers for your Windows computer and install them before you continue with the guide. You'll need those drivers running before you get into the steps.
HOW TO ROOT SAMSUNG GALAXY S5 SM-G900T3 RUNNING ANDROID 5.1.1 LOLLIPOP
Download the CF-Auto-Root for the Galaxy S5 on 5.1.1 from this link.
Download the Odin flashing tool from this link.
Extract the files on the desktop of your Windows-based computer by right-clicking and choosing the option that says "extract here" from the menu. You should now see the executable Odin file and the tar.md5 rooting file.
Hold in the Power button until your Samsung Galaxy S5 smartphones turns completely off and then reboot it in download mode.
Connect the Samsung Galaxy S5 smartphone to the computer with the USB cable when you are happy it is in download mode.
Click the PDA or the AP button that is on the Odin user-interface — you will see one of those two buttons depending on your version of the Odin flashing tool.
Browse the desktop of the computer for the rooting tar.md5 file you extracted earlier — do not extract it a second time or else it will not work.
Click the Start button found from the Odin user-interface without changing any of the default settings.
Wait until the Samsung Galaxy S5's diplay says the device is about to reboot in 01 seconds and let that happen.
The device will now reboot in recovery mode and install the SuperSU on your device.
Any Samsung Galaxy S5 that does not get in recovery automatically must be put in recovery by pressing the Volume Up + Home + Power key combination during the booting process. It won't get in recovery if you try the buttons with the device on already.
Related Posts