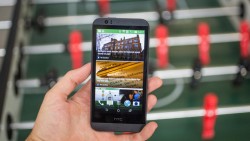 Installing TWRP as your custom recovery on the HTC Desire comes with many advantages over any other custom recovery. Some advantages you might not know already include the ability to queue up to 10 files to flash at once, so you can set them all up at the same time and come back when they are finished. TWRP even comes in with a built-in screen burn protector so your screen will not get damaged if you leave it on for long periods of time while your files that you have lined up are flashing.
REQUIREMENTS
The TWRP file that is available in this guide is made specially for the EU version of the HTC Desire 510 smartphone.
BEFORE WE BEGIN
You will need to unlock the Developer Options menu on your HTC Desire 510 smartphone by tapping on the Menu > Settings > About Device > Model Number 7 times.
Now turn on the USB Debugging |Mode from the |Developer Options menu available on your Desire 510 by tapping on the Menu > Settings > Developer Options > USB Debugging Mode. Exit the Developer Options menu and it will automatically remember your settings.
HOW TO INSTALL TWRP RECOVERY ON HTC DESIRE 510 EUROPEAN VARIANT
Download the TWRP file for the 510 EU version of the HTC Desire from here.
Download the adb and fastboot and set it up on your computer.
Copy the TWRP image file over to the same folder as your adb sites and keep the folder open.
Connect the HTC Desire 510 to the computer with the USB cable.
From within your folder contain the adb and recovery files, hold the Shift key and right-click the white background and choose to open a new command window here from the menu.
Type the first command: adb reboot bootloader
The HTC Desire 510 smartphone will now reboot in the bootloader mode.
Type the second command: fastboot flash recovery twrp.img
The TWRP custom recovery image will now be flashed on your HTC Desire 510 smartphone. Now you just need to apply the command in the next step to reboot. We recommend holding the hardware button combination for recovery mode after you apply the next command so your device boots directly into the recovery mode. It should result in you seeing the TWRP boot, and when that happens, it will forever be on your device each time you boot into recovery mode.
Type the last command: fastboot reboot
In conclusion, you should now find your HTC Desire 510 EU device in TWRP Recovery mode and ready to boot back in the normal mode should you choose to do that now. Alternatively, you can stay within the confines of your new recovery partition and start taking full backups with the NANDroid backup feature, upload custom ROMs, custom kernels or recover your device.
Related Posts