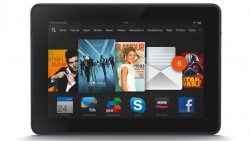 Owners of the Amazon Kindle Fire HDX who are running on the latest FireOS version 4.5.5.1 can now root the device running that same firmware using the universal one-click rooting application, namely KingRoot.
Anyone who does not have a rooted Amazon Kindle Fire HDX device can accept the OTA notification to install the latest FireOS 4.5.5.1 and then follow this guide to root. Anyone who is already rooted should not install that update over the air. You want to unroot first, or just flash the new update manually.
These are the instructions to root Amazon Kindle Fire HDX running on the FireOS version 4.5.5.1 firmware:
REQUIREMENTS
You can only use this guide to root the Amazon Kindle Fire HDX running on the FireOS version 4.5.5.1. We do not recommend using this same one click rooting app on one of the other versions of FireOS for this device. It will never brick your device, but you might waste your time because it might not work.
BEFORE WE BEGIN
You are choosing to void the warranty on your Amazon Fire HDX when you root the device, even with the one-click rooting tool we know as KingRoot. The main difference is that KingRoot gives you an easy way to unroot the device from the same application, or by tapping on the KingUser app from your app drawer, depending on the version.
Enable the Unknown Sources option from your Amazon Fire HDX device by tapping on the Menu > Settings > Security > Device Administration > Unknown Sources.
HOW TO ROOT AMAZON KINDLE FIRE HDX RUNNING ON FIREOS V4.5.5.1
Download the KingRoot APK from here and install it on your device either directly from your app web browser, or copy it to the internal storage SD card and install it using a File Manager.
Tap on the KingRoot icon when it's available from your app drawer.
Tap on the large button that is available on the front page of the app that suggests it will root your device.
The KingRoot application will start rooting your device; wait until you see the progress bar reach 100%.
Once you get the success message on the display, close your application and reboot the device from the Power Options menu.
In conclusion, the Amazon Kindle Fire HDX is now rooted running on the FireOS 4.5.5.1 firmware. You should open your Google Play Store application and install the root checker basic app. Open the root checker application after it finishes downloading and then agree to grant the SuperUser access. Now follow the prompts to check if your device is rooted or not.
Related Posts