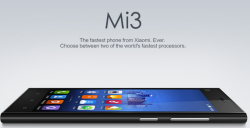 One of the most fundamental reasons to install a CyanogenMod ROM on your Xiaomi Mi3 smartphone is to upgrade the firmware past that of what your phone carrier networks are releasing. The next prevailing reason is if they are taking too darn long to push your OTA's and you cannot be bothered waiting any longer. You see, these custom ROMs are based on versions of Android, and the CM 13 is based on Android 6.0 Marshmallow. That means, by updating to the CM 13 custom ROM on your Xiaomi smartphone, you can test out many of those Marshmallow features — something you would have to continue waiting to do if you relied on your carrier updates.
REQUIREMENTS
BEFORE WE BEGIN
Save your backing up duties for when you are within the confines of your custom recovery. There's no need to back up using apps or the built-in backup options from your smartphone. You can back everything up with a full backup with just one tap from the main recovery menu. Anyone looking to restore that data one partition at a time can do so by installing the NANDroid Manager application from the Google Play Store.
You possibly will need to enable the USB Debugging Mode from the Developer Options menu on your device. You can do that now by tapping on the Menu > Settings > Developer Options > USB Debugging Mode.
Anyone without the Developer Options menu on the Mi3 device can make that appear by tapping on the Menu > Settings > About Device > Build Number a minimum of 7 times.
HOW TO INSTALL CYANOGENMOD 13 ON XIAOMI MI3
Download the CM 13 official custom ROM for the Xiaomi Mi3 from this link.
Connect the Xiaomi Mi3 smartphone to the computer with the USB cable.
Copy the CM 13 ROM zip file over to the root of the internal SD card storage.
Unplug your Xiaomi handset from the computer once you have the CM 13 file on the device's internal storage space.
Boot the Xiaomi Mi3 smartphone to recovery mode and you should see the custom recovery you installed earlier boot up.
Tap on the 'Backup' option from the menu and proceed to take your NANDroid backup before you wipe the data during the next step.
Tap on the 'Wipe data/factory reset' option from the menu.
Tap on the 'Install' option and follow the prompts to browse your SD card for the CM 13 custom ROM file.
Follow the instructions to confirm you do want to install that new CM 13 zip file on your device.
Choose the option to 'Reboot System' from the main recovery menu once you have flashed the file.
Related Posts