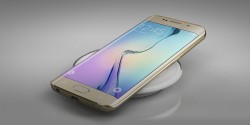 The Samsung Galaxy S6 Edge USB Drivers for Windows PCs will help your smartphone talk to the programs on the computer. Further, they will act as a portal between your computer and your Samsung Galaxy S6 Edge device that makes transferring files all possible.
Most OEMs come out with their own drivers, and they work for their own devices but not usually everyone else's. The Samsung USB driver package you will find in this guide works in much the same way. You should find it works for the Samsung Galaxy S6 Edge device, as well as all other Samsung devices if you update to something newer, or if you have an older device hiding away in your bedroom drawers.
There is an alternate file you can install that works universally with all popular mobile manufacturer's. The file is called the universal Windows ADB driver and it's been put together by Koushik Dutta — the guy who brought us SuperUser, SuperSU and ClockworkMod Recovery. Now he is back with the universal ADB driver and it should connect your device with the computer for most of the same tasks at hand. You can install the universal Windows ADB driver on your computer and extract the file much the same way as the Samsung drovers during the guide. From there, just follow the on-screen instructions to connect your device and wait until the adb user-interface tells you that your device is now connected.
DOWNLOAD AND INSTALL SAMSUNG GALAXY S6 EDGE USB DRIVERS FOR WINDOWS PCS
Download the Samsung USB Drivers from our drivers page here.
Open the default downloads folder on your Windows PC and drag the file over to the desktop.
Right-click the mouse on the file and choose the "extract here" option from the menu.
Double-click on the executable driver program that popped out of your extracted file on the desktop.
Click on the 'Next' button from the main drivers program user-interface.
Click on the 'Next' button once again.
Wait for a few minutes and then click the 'Finish' button when it presents itself on the display.
In conclusion, that's all you need to do in order to install the official Samsung USB drivers and the universal Windows ADB driver on the computer so you can connect your device and transfer files. If you are installing official firmware files, a custom recovery or rooting your Samsung Galaxy S6 Edge smartphone using the Odin flashing tool and one of our guides on this site, you should find both the ADB driver and USB drivers work just the same.
Related Posts