Finally, the long-promised extensions support has arrived to Edge browser. In the latest Windows 10 Insider build (14921), Microsoft for the first time allows users to try out some extensions. There are only three extensions to try but they work pretty well. According to Microsoft, extensions in Edge are very much like those in Google Chrome. So that developers can easily and quickly port Chrome extensions to Edge. Some developers claim they only need to change some lines of code of their Chrome extensions to make them work in Edge.
In this early preview, you must install extensions through many steps. However, Microsoft promises that eventually users will install extensions through Windows Store just like apps when the feature is ready for prime time. There are three preview extension to try out: Microsoft Translator, Reddit Enhancement Suite, and Mouse Gestures. Here's how you install preview extension in Edge in Windows 10 build 14921.
Go to this website to read more and download an extension
Click Download on an extension you want to install
It'll download an .exe file that extracts the extension to a folder
Once you run the downloaded file, open Edge, then click the ellipsis icon and select Extensions from the menu
In the pane, click button "Load Extension" to browse for the extension folder. If it's installed successfully, you'll see the extension appears on the list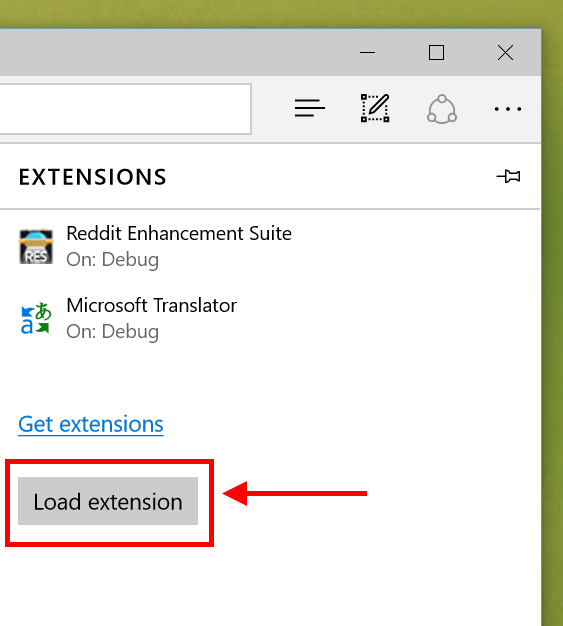 Using an extension is very straight forward. It appears automatically on the right hand side of the address bar whenever it's usable. For example, if you visit a website whose language is not English, Microsoft Translator will appear on the address bar so you when you click it, it'll translate the entire website to English for you.

Although there are only a few extensions to try out first, many popular ones are coming later this year. AdBlock Plus and Amazon have confirmed their plan for Edge extensions. With the easiness of porting Chrome extensions over, hopefully Edge will get many more extensions in the future.
Related Posts