You can make backup of all your files in "Mac OS X" with time machine. Time machine is a very essential tool. Time machine is a software which backup your files and arrange them in such a way that you can restore them many times in Mac. It is an easy, powerful and versatile method in Mac to make backup.
Set up a time machine in your Mac OS X
Making backup in your Mac using time machine is a very effortless way. But the question arises how to set up a time machine. You can set up time machine by the following method.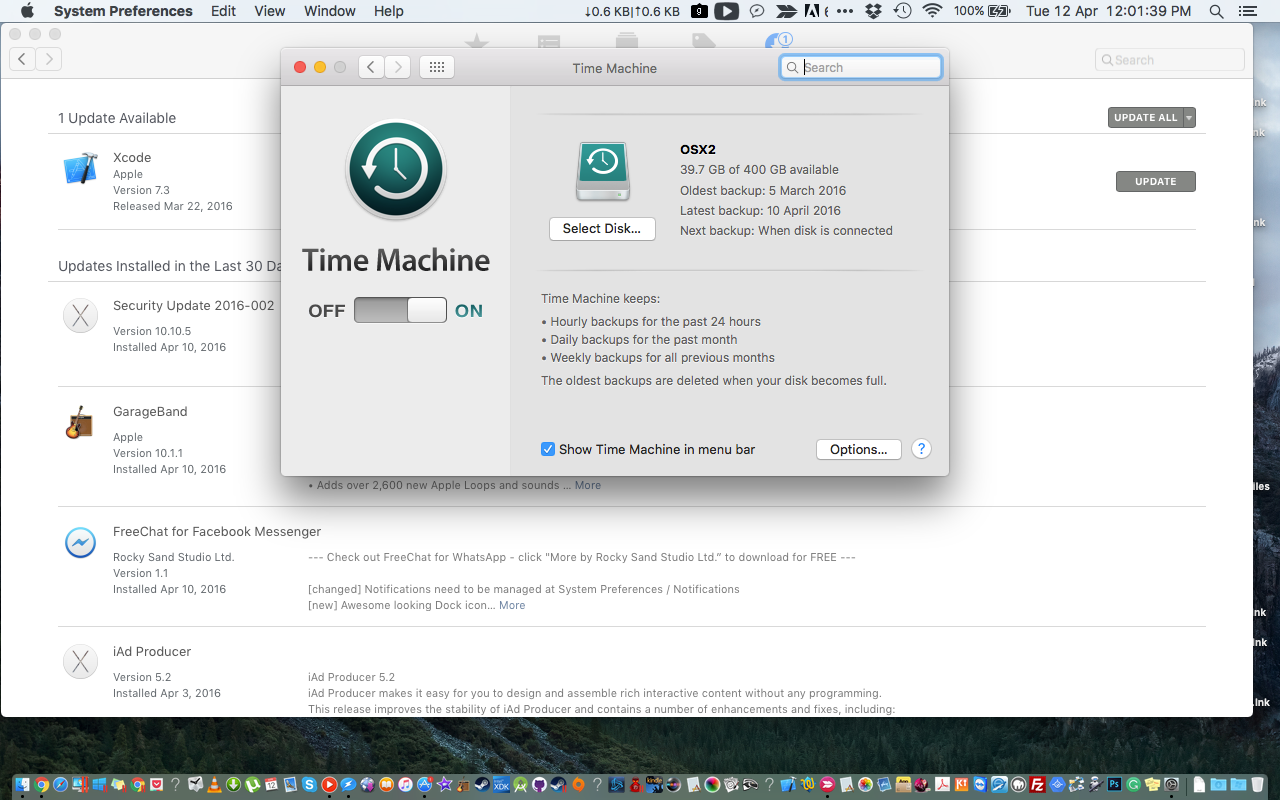 Attach an external hard drive that will be used for backup of Mac.

The drive should be big enough to store all the file you want to make backup for.

After attaching external device Mac will ask you whether you want to use this hard drive for "Time Machine Backup".
Finally click this option, "Use as Backup Disk".
Backup Process
After performing this action. Mac will automatically copy files including your OS files.

To stop this automatic feature of Backup, turn off the time machine in the "Time Machine Preferences".

After turning off the time machine. You can make backup according to your opinion by selecting "Backup Now" from the Time Machine menu.
Time machine can be pause or restart by clicking on the "Pause" and "Backup Now" option.

To check the status of the backup files, go to time machine menu. Different icons will show you about it.

You can also make backup of several files and add them in the Time machine.

By opening System Preferences > time machine > options.

The items which are excluded will be displayed in the list.

Click on "ADD" and then you can add any file in the excluded list.

The time of the "Backup" depends upon the number of files in process.
Restoring files from Time Machine Backup
To restore files from time machine, follow the procedure:
You can open the time machine from menu bar and if it is not available you can access the "Time Machine". You can search and click the option of show time after clicking on the option of system Preferences and then going for the option "Time machine menu".

Backup uses the timeline at the edge of the time machine screen to show your files

Use the up and down options to see all the files in the Time Machine Backup.

Select any file which you want to restore. And you can preview the file by pressing space bar to make sure it is the file you want to restore.

Now to restore that file click on "Restore" to restore the file and your file will be restored.
Restore Everything:
You can copy all the files, settings and other utilities by using "Migration Assistant".
So, this is how you can backup your Mac OS X.
Related Posts