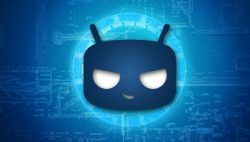 I was fairly close to buying the Motorola Moto E a few weeks ago due to it being available so cheaply online and nearly matching the first and second-generation Moto G spec-wise.  In fact, I was able to find a brand new Moto E 2015 smartphone nearly four times as cheap as I was able to find the second-generation Moto G which makes buying that Moto G seem somewhat ridiculous, even though it was regarded as one of the best budget handsets money can buy when released. I ended up not buying it, but if I knew that CyanogenMod 13 was available, I might have checked out with it in my cart.
The CyanogenMod 13 custom ROM is the latest version of CyanogenMod — the world's most famous and popular custom ROM — anyone can run on an Android-based smartphone. CyanogenMod's developer team doesn't put in much effort to their websites online and they don't see the point in listing features for people to see. Personally, that perplexes me a little bit and I would assume many more people would begin installing the ROM if they could actually see its features. On that note, you'll struggle finding anything worthwhile reading on online with regards to what you are going to get after installing this ROM on your Motorola Moto E smartphone. Just know that it is based on the latest Android Marshmallow software update and it's one you likely won't regret checking out.
REQUIREMENTS
You must have the second-generation Motorola Moto E smartphone to use this guide. The Moto E range started in 2014 and has since expanded to include a 2015 variant. There is no Moto E 2016 as of yet at the time of writing this guide.
You must have the Motorola Moto E 2015 rooted and running the latest version of TWRP Recovery. Make sure it is the latest version you have running or else it might not support the Android 6.0.1 marshmallow custom ROM in this guide.
BEFORE WE BEGIN
Make sure you have enough battery power charged on your Moto E handset before starting the guide so it doesn't shut down before your ROM installation completes.
Note that you are going to wipe the data on you current ROM before flashing the new one, so make sure you take the NANDroid backup during the guide. No backup means you will not be restoring that same data later.
HOW TO INSTALL CYANOGENMOD 13 ON MOTOROLA MOTO E 2015
Download the cm-13.0-20160316-SNAPSHOT-ZNH0EAO1QE-otus.zip file from the CyanogenMod page.
Connect the Moto E 2015 smartphone to the computer with the USB cable.
Copy or drag the CM 13 ROM zip file over to the internal storage SD card folder for your device.
Unplug your Moto E 2015 device from the computer and reboot to recovery mode.
Tap on the 'Backup' button from the main recovery menu and it will guide you on how to take the NANDroid backup so your data can be restored.
Choose the 'Wipe' option from the main recovery menu and it will wipe your data and then apply a factory reset.
Tap on the 'Install' option from the main recovery menu and follow the instructions to install your CyanogenMod 13 Snapshot custom ROM zip file.
Choose the option to reboot the Moto E 2015's system from the recovery menu when the flashing is complete.
In conclusion, that's how to install CyanogenMod 13 on Moto E 2015 to update your smartphone to the latest Android 6.0.1 Marshmallow build.
Related Posts