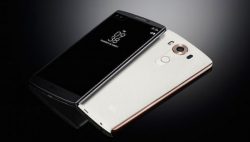 There are lots of things you can do to a smartphone that would fall under the "device customization" category, but nothing is more a household name than rooting your Android. Rooting is the most popular aspect of device customization because it's required to install any of the root apps. Further, it's also required to install a custom ROM.
These are the guidelines to root LG V10 H960A smartphones running on the Android 5.1 Lollipop software updates using the LG Up and a computer.
REQUIREMENTS
You must have a Windows computer before you can use this guide. You will not get the rooting tools to run on a computer without a Windows-based operating system.
You must have the LG V10 smartphone with the H960A model number to complete this guide. Any other model number might get bricked if you follow these instructions.
BEFORE WE BEGIN
Download and install the LG USB Drivers on your Windows computer before starting the guide or else you might find the rooting does not work for your device.
Unlock the Developer Options menu if it is hidden on your LG smartphone by tapping on the Settings > About Device > Build Number 7 times. Keep tapping until it says you are using the V10 as a developer.
Enable the USB Debugging Mode by tapping on the Settings > Developer Options > USB Debugging Mode.
HOW TO ROOT LG V10 H960A RUNNING ANDROID 5.1 LOLLIPOP
Download the LG Up from here.
Download the TOT file from here.
Extract the RAR file to get the TOT file.
Unzip the "lgupnew.zip".
Run the "LGUP_Store_Frame_Ver_1_14_3.msi" file you get inside.
Copy the "common" folder you can see to the "C:\Program Files (x86)\LG Electronics\LGUP\model".
Turn off the LG V10 smartphone and reboot it up in download mode.
Click on the Start menu and run the LG UP tool.
Choose your V10 smartphone from the device list.
Upload the "rootedsystemvs.tot" file to where it asks for the BIN file.
Wait for roughly three minutes for your device to be rooted.
In conclusion, that's how to root LG V10 H960A smartphones running on the Android 5.1.1 Lollipop software updates. You should find all the same root applications work on your V10 smartphone. Your options now are pretty much limitless — from hooking up a Play Station controller to protecting your operating system from DOS attacks, a rooted device can do it all.
Once you get a custom recovery to go along with your rooted LG V10 smartphone, you can then check out how to install a custom ROM on the LG V10 device. A custom ROM is made by third-party developers and not the official Android developers, but that doesn't always mean they aren't just as talented. ROMs are always popular for when your phone carrier networks think it's time to stop rolling out timely software updates in your direction. A new ROM can often update your software to newer versions of Android.
Related Posts